The Role of Gender in Indigenous Peoples Experience with Climate Change
Tanner Humanities Center hosts philosopher Kyle Powys Whyte, Tuesday, April 4, 7pm
---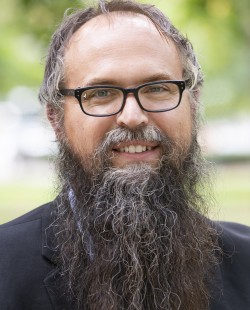 Kyle Whyte
March 21, 2023 – "The urgent issue is not just that there are environmental perils coming, but rather that the climate crisis was built off of generations of inequity," Kyle Powys Whyte said in an interview with Michael Nigro for Grist. "If people don't recognize that it's a crisis of justice, as well as a crisis of the environment, then they're going to continue to propose these problematic solutions."
The Tanner Humanities Center at the University of Utah is proud to announce that Whyte, associate professor of philosophy at Michigan State University and an expert in environmental philosophy and indigenous knowledge systems, will be speaking at the UMFA Dumke Auditorium, April 4, 2023, 7 p.m. Whyte will discuss some of his research on Climate Change through an Intersectional Lens and the role of gender in indigenous peoples climate change experience. Whyte's visit to the U, comes after state leaders fail to add local tribal leaders to any Great Salt Lake conversations. However, land dispossession and forced migration on indigenous peoples has made them the most vulnerable to the effects of climate change.
"We are honored to have Professor Whyte at the U," said Hollis Robbins, dean of the College of Humanities. "His extensive work in environmental philosophy and Indigenous knowledge systems is especially welcome at a time we are building and strengthening our relationships with Utah Tribal communities and Nations. As our climate changes, it is vital that we look to scholars who have the broadest perspective on what sustainability means, on how scientific knowledge is organized, to include cultural practices rooted in interdependent relationships with local ecosystems."
Whyte's research focuses on environmental ethics, Indigenous philosophy and public policy. He has published extensively on climate justice, traditional ecological knowledge and environmental justice.
"Kyle Whyte's research resides at the intersection of environmental justice and the rights of indigenous peoples," said Erika George, director of the Tanner Humanities Center. His research is collaborative integrating indigenous and Western knowledge to transform the ways we learn about and understand the lived experiences of populations experiencing the impacts of climate change. We are delighted to introduce his work to new audiences and welcome him to Utah."
The event is free and open to the public, but registration is required.
About The Tanner Humanities Center
The Tanner Humanities Center at the University of Utah is proud to be celebrating 35 years of promoting humanities inquiry and exchange. The Center supports innovative scholarly projects and creates opportunities for interaction among scholars, students, and lifelong learners. It offers programs in three major areas: public outreach, educational enrichment, and academic research. The activities reflect a vision of the humanities as not only relevant, stimulating, and cutting-edge, but also essential for developing critical thinking, tolerance, and respect on campus and in the community.
---
Media Contact
Missy Weeks, Tanner Humanities Center
missy.weeks@utah.edu| 801-581-8879
Published March 23, 2023