Natalie Montoya Wins Humanities Partnership Board Staff Excellence Award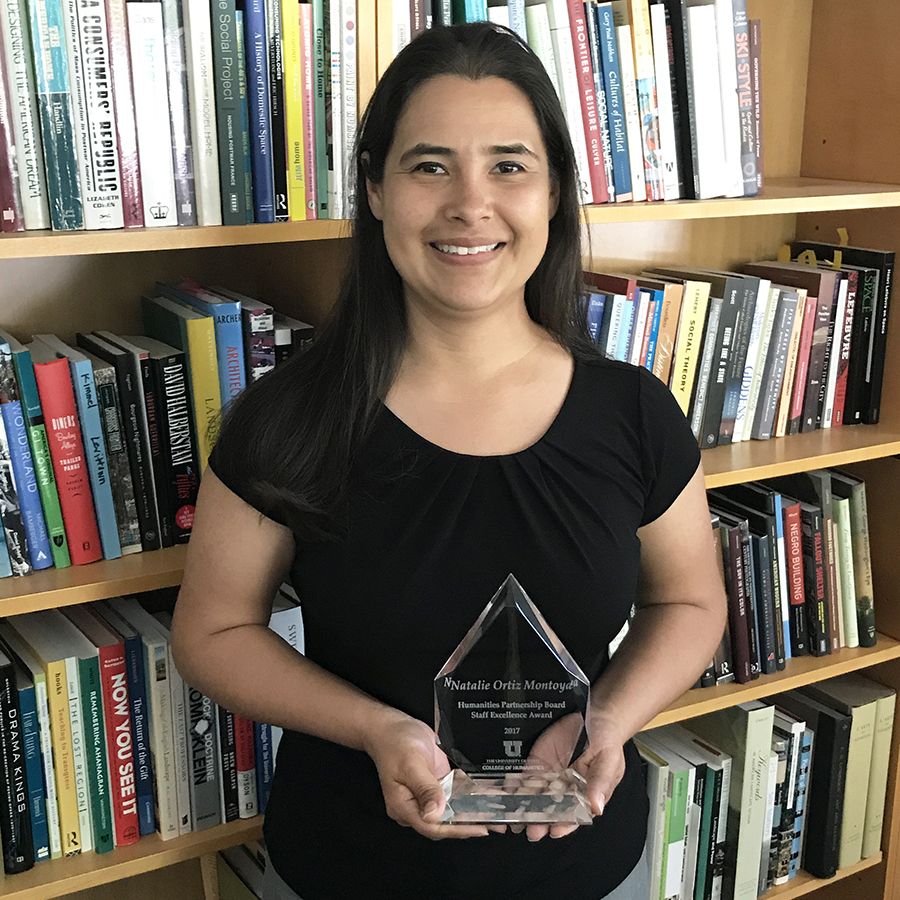 On May 4, 2017, at the Humanities Distinguished Alumni & Scholars Luncheon the Humanities Partnership Board presented Natalie Montoya, administrative officer in the Dean's Office, with their first annual Humanities Partner Board Staff Excellence Award. Chaired by Kathryn Lindquist, the board has established this award to honor one staff member per year in the college who demonstrates excellence and deserves recognition. In its inaugural year, the board chose Montoya as their worthy honoree.
As Dean Dianne Harris and Partnership Board Chair Kathryn Lindquist presented Montoya with her award, Dean Harris read remarks from her colleagues. Taunya Dressler, Assistant Dean, said, "Natalie is the back bone of this office, the glue that holds us together, the memory that keeps us moving forward and the soul that keeps us calm. She is, in one word, unflappable. She has been a steadfast friend, mentor, and mother in crime to me. I cannot imagine a more supportive, efficient, and thoughtful colleague."
Pat Aoyagi, Office Assistant, remarked that "any positive or good adjective applies to Natalie. She is dedicated not only to her job but to all of us in the Dean's Office. She is our helpmate, our information center, our confidant, our friend. Natalie is really the 'heart' of the Dean's office."
"Natalie is a colleague and collaborator in the truest sense, said Kristina Bailey, Executive Assistant to the Dean. "You cannot replace the historical knowledge of a long-term employee, especially one who will so willingly share that knowledge. Sometimes you run in to people who guard their information, or feel like you should go out and learn it the hard way like they did -- not Natalie. She is a selfless colleague with the best interests of the College and U at the forefront. She realizes that when one of us succeeds, we all succeed."
Congratulations to Natalie Montoya for winning the Humanities Partnership Board Staff Excellence Award!