Graduation
College of Humanities Convocation
May 6, 2021 | 11:30am| Rice-Eccles Stadium | Live-Streamed
The College of Humanities will plan to recognize
both the Class of 2020 and the Class of 2021.
If you missed it, catch the full convocation ceremony video here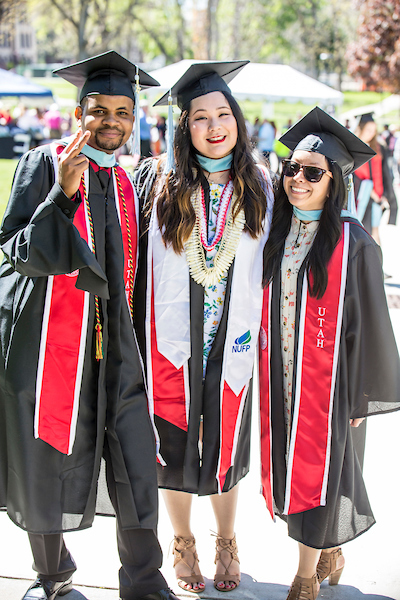 The College of Humanities Convocation ceremony will recognize Baccalaureate, Master's and Doctoral Degree Candidates for their degrees and honors earned. Diploma covers are presented at this time to each graduate. All graduates are required to wear the appropriate cap and gown during the ceremony.
Graduates should plan to arrive at the Rice-Eccles Stadium West entrance gate D at 11:00am. The ceremony begins promptly at 11:30am and is expected to last approximately 1 hour and 45 mins.
All undergraduate and graduate candidates should go directly to their seats as designated below. Students will not march in a procession. Doctoral and Master candates will enter and be seated on the field. Please bring a pen or pencil to print your name on the name card as you want it read and pronounced. Both sides of the card must be completely filled out. The reverse side of the card is used by the photographer.
Baccalaureate Degree Candidates
Please go directly to your seats in the sections marked within Rice-Eccles Stadium and as directed by the ushers. All graduates should be in their seats no later than 11:30am.
Doctoral and Master's Degree Candidates
Please go directly to your seats in the sections marked within Rice-Eccles Stadium and as directed by the ushers. Candidates for doctoral degrees will carry their hood over their right arm and will be hooded when the degree is awarded. Candidates for master's degrees will wear their hoods with their gowns.
College of Humanities Convocation Tickets
Date: Thursday, May 6, 2021 | Time: 11:30a.m. | Location: Rice-Eccles Stadium
Each student is required to claim a ticket to attend graduation and to enter Rice-Eccles Stadium. Each graduate will also be able to claim four guest tickets. You will create an account using your Unid using the format unid@utah.edu (do not use unid@umail.utah.edu) and reserve your general admission student and guest tickets.
If you are unable to create an account with your unid@utah.edu, please email natalie.montoya@utah.edu.
Photographs
A commercial photographer will be present to photograph all candidates. You will be asked to fill out name cards for the photographer, but you are under no obligation to purchase pictures. Family and friends may take additional photographs as desired.
Cap and Gown Orders
Student graduates can pay for and pick up graduation regalia at the University's Bookstore's Grad Fair, March 25 - March 27. Go to the University Campus Bookstore for additional information.
Honors at Graduation
You may pick up an honor cord the week of May 3 within room 2100 LNCO. Please bring in a copy of your unofficial transcript to verify your GPA.
Guests
We are pleased to announce that each graduate participating in our college convocation ceremony will be allowed to bring up to four guests. You can claim your four guest tickets when you claim your student ticket. The ceremony will be live-streamed so other family and friends can tune in virtually. Guest will enter through gate F. No bags upon entrance.

Diplomas
Diploma covers are presented during the ceremony. Diplomas are mailed to student graduates within three months of graduation. You may submit a request to the Graduation Office to list your preferred name on your diploma at graduation@sa.utah.edu in writing by the last day of classes for the semester the student is expecting to graduate.
Parking Map & Instructions
Please see the parking map for the College of Humanities parking locations. You'll park and enter the Rice-Eccles Stadium from the West Side.Click here for more information about parking and trasportation services.
Questions
If you have questions, please contact Taunya Dressler
or Natalie Montoya via email, or call (801) 581-5897.
2021 University of Utah Commencement
May 6, 2021 | 7:00pm | Live-Streamed
The University will plan to recognize both the Class of 2021 and the
Class of 2020 during Commencement 2021 events on May 6-7, 2021.
Graduation Statistics