Travis Ciaramella receives Humanities Staff Excellence Award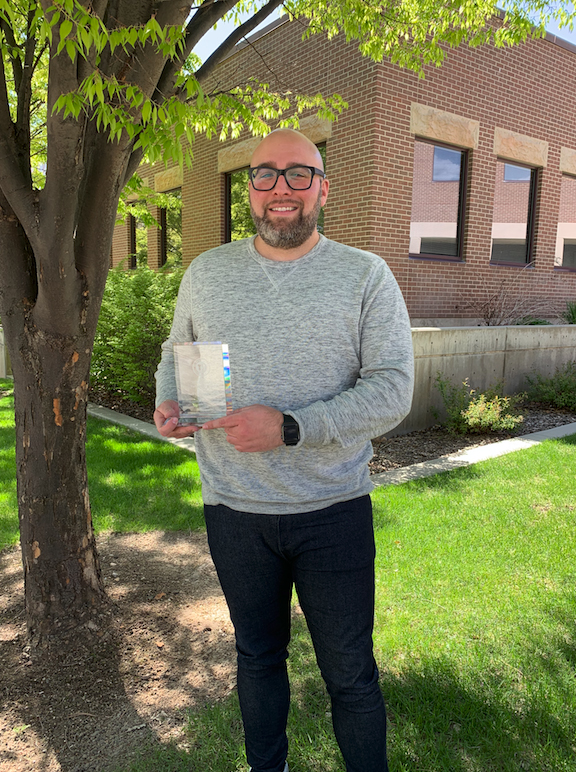 May 02, 2019— Each year, the humanities partnership board honors a college staff member for their hard work and dedication to the humanities. This year, the board has nominated Travis Ciaramella, academic advisor in the Department of Communication, for the Humanities Staff Excellence Award.
His nominators include Danielle Endres, chair of communication, Helene Shugart, director of graduate studies and Studies Natasha Seegert, director of undergraduate studies.
Ciaramella's advising philosophy emphasizes compassion and equity for all students. Given the large undergraduate population in the department – close to 1,000 majors – advising in the department is demanding and it is easy for a student to feel anonymous. Ciaramella has prioritized mentoring other advisors to be student advocates and training them to keep impressively detailed and tailored records.
He is a model to other advisors and is unfailingly personable and professional with everyone. With fellow advisors in the college, he has worked to develop best advising practices, including innovations like electronic sign-ins to track student advising and progress. He diligently researches curricular questions and provides sound advice to department faculty and administration.
For five years, he has helped mentor students and now co-teaches a communication bridge course for transfer students at Salt Lake Community College. He is a strong advocate for transfer students as he was once a transfer student himself. The combination of his model advising, commitment to the profession and his dedication to students makes him an ideal candidate worthy of the recognition of this award.