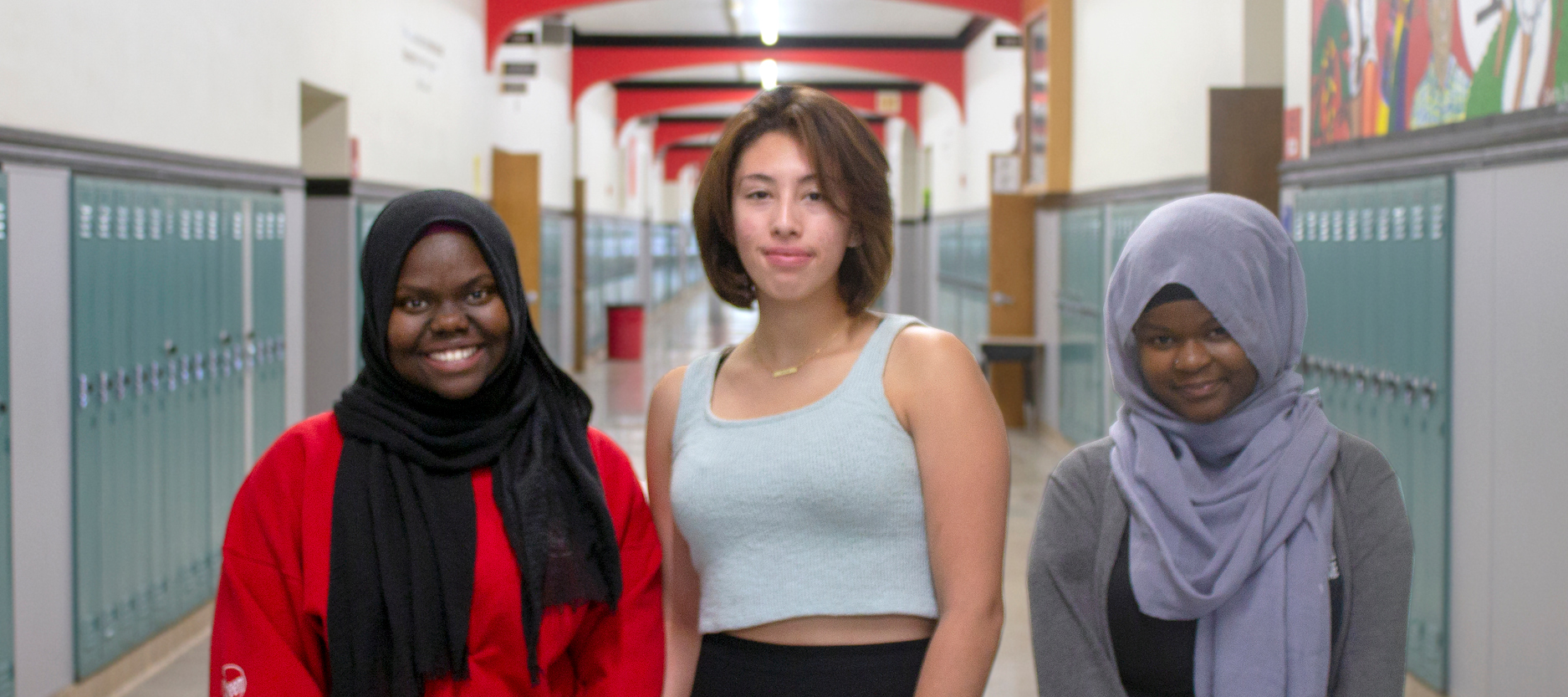 Clemente Course inspires underserved
students to continue their education
Utah Humanities partners with the University of Utah to bring the humanities to high school students
Prior her junior year at West High School, Amina rarely spoke up in class and was too timid to join in classroom discussions. Through her participation in the Clemente Course, an interdisciplinary humanities course for underserved high school students, Amina now understands the value of her opinions and lets them be heard in class and freely engages in difficult dialogue and debates.
"We have debates on topics you wouldn't normally speak about in regular classes and the teachers really make us question and talk about everything," said Amina, who is in her second year of Clemente. "The teachers don't always give us the answers and they make us think on our own."
Offered in partnership between Utah Humanities, the University of Utah, Westminster College, Salt Lake Community College, West High School and East High School, the Clemente Course is intellectually rigorous, focusing on significant multicultural works using primary documents, group discussion, writing and group projects as the basis for learning.
The goal of Clemente is to encourage students like Amina to apply for and succeed in college. West High students are also eligible to earn three college credits when they complete the more advanced Clemente 2 course.
"We want to provide equitable services and access to our students," said Josie Wankier, head counselor at West High School. "This course provides opportunities for students to do concurrent enrollment and to know that college isn't that scary after all."
These are the very reasons Chelsea, a senior at West High School in her second year of the Clemente Course, joined the program. A competitive swimmer since the age of six, she has her sights set on a swimming scholarship and wants her college applications to stand out. She also appreciates that the majority of the course work occurs in the classroom.
"Being able to think about the topics and debate them in class rather than doing homework by yourself is really helpful," said Chelsea. "The debates were especially helpful during the philosophy section."
During their first year of Clemente, West High students study art history, literature, American history, philosophy and practical college-success skills. The second year of the program focuses on a more thematic approach to demonstrate how interdisciplinary the humanities are and that it's possible to find many answers to humankind's fundamental questions. The students study the roles of mythology and religion, attitudes toward war, the relationship between humans and nature, the role of love and relationships, the place of death in human life, how freedom and attendant responsibilities challenge human life, and the fundamental difficulties faced by marginalized groups in world cultures.
The course was inspired by Earl Shorris's work with low-income adults in New York City in the first Clemente Course, which began in 1995 with the intention of bringing the richness and beauty of the humanities to those who haven't experienced them.
"To adapt to a changing world, we need new software for our computers and cell phones, but we also need new ideas and new understanding of old ideas," said Jodi Graham, executive director for Utah Humanities. "While technology can make our lives easier, the humanities have the power to make our lives better.
The Clemente Course has been underway at East High School in Salt Lake City since 2013 and West High School since 2017.