English professor's humorous play about prostate cancer premieres in Denmark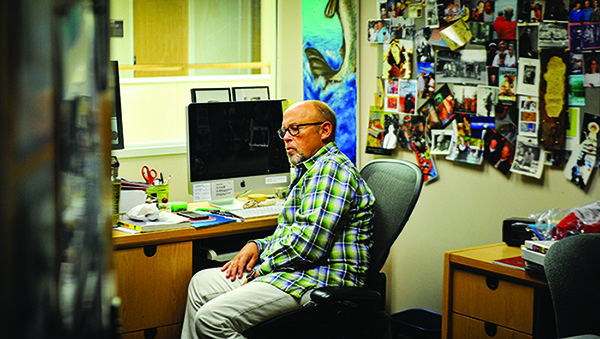 Jeff Metcalf, professor of English, created a play "A Slight Discomfort" not long after being diagnosed with prostate cancer. His remarkably honest and humorous play is based on his personal journals and follows his journey from diagnosis through survival.
His one-man play premiered at Salt Lake Acting Company in 2008 to wonderful reviews and has since been performed in multiple cities across the U.S. His play recently opened in Denmark for a full-year tour and will soon move on to other Scandinavian countries. A documentary based on the play is scheduled to premiere sometime next year.
Below, Metcalf answers a few questions about how his play came to be, it's future and his hopes for those who see it.
What prompted you to write the play?
I have often thought that sometimes the art form finds you. By that I mean, particularly with the play "A Slight Discomfort," it was never meant to be a play.
It's interesting how the play morphed from two short essays written about cancer into a full-length play that has been performed in 12 different U.S. cities and four foreign countries. Who could have guessed?
In short, this is how it happened. There is a great author's venue called City Art that has brought outstanding writers from all over the country to the downtown library every Wednesday evening for readings. At the end of each year, a panel invites back several of the audience favorites to do a reading known as the Melt Down.
In 2006 I was invited to be one of the readers and I brought with me two very different pieces. I couldn't decide which one I wanted to read so I brought both of them up onto the stage.
One piece was a short comedic story about a pathological liar and the other was a rather dark essay about the beginning of my journey through prostate cancer. The obvious choice was the comedy, right? I mean, I knew it. I knew what the crowd would like to hear but at the last moment I ended up selecting the essay about cancer.
When I was done reading the essay the audience was absolutely quiet and I chastised myself for the selection. And then the audience erupted in unison with a standing ovation and applause that seemed to go on forever. It had been the right choice.
Sitting in the audience was a dramaturg from Salt Lake Acting Company by the name of Mike Dorrell and he approached me after the performance. He asked me if I thought it would be possible to write a play about cancer that included the sort of gallows humor he'd heard in my reading. When I said I thought I could do it, he commissioned me on the spot and that, as they say, became history.
Why was it important for you to use humor as a way to deal with prostate cancer?
I've always kept journals for as long as I can remember. I still have one from the third grade but when I was diagnosed with cancer I decided to keep a separate journal because I didn't want cancer infecting my other world. And yet, in the very darkest moments of dealing with my prognosis, I would suddenly find a humorous line or two about having cancer and made me reconsider what the topography of a comedy about cancer would look and feel like. Would it be possible to write a play that balanced the seriousness of cancer against my own sense of humor? I think my play, "A Slight Discomfort" is almost a perfect piece of work in that sense. Just when one thinks they can't take any more serious stuff the play shifts and allows us to breathe. It allows us to laugh.
Were you nervous about sharing your personal journey with the public?
When I wrote the play, I realized my life would change in many ways. To some degree I would become a poster-boy, a voice for men who had prostate cancer. I was a little more uncomfortable than I originally expected. So much of the play is very, very emotional and personal. To be honest, it wasn't until I got to see the play in front of an audience that I knew this was going to be something important. Maybe even big.
What do you hope people take away from the play?
I had three things in mind that I wanted to have happen when I wrote the play. I wanted men to come see the play and then talk with each other about their own health issues.
Women are so much better at sharing information with each other. My experience is that they are not as afraid to tell their stories and connect with each other. We men, have a great deal to learn in this arena.
Although the play has been performed in New York, Las Vegas and Los Angeles to crowds of over 1,000 people, I'd hoped one day it would reach an international audience. Prostate cancer is the second leading cause of death among men so the audience is there. Now, with the play off to Denmark for an international premiere, I feel like I've accomplished that goal.
Finally, and most importantly, I'd like to outlive my own play.
This play is on its way to Denmark. How did that come about?
In 2008 I received an international phone call from a young director in Denmark who had heard a version of the play on NPR's Hearing Voices and wanted to see if his theatre could get the rights to the play for a six-week run.
I was curious by the fact he'd found the play and asked why he would want to perform the play in Denmark. It turns out that the Scandinavian countries have some of the highest rate of prostate cancer demographically in the world. Go figure.
We pounded out a contract and then our country fell apart with all the bank scandals. The director called me back to say that when the U.S. economy collapsed, so did the rest of the world's economies. They would have to withdraw their offer to stage the play but not without him making a promise to me that this play would be performed at his theater in the future.
I thanked him for the opportunity and hoped we could make that happen. I was honored by the consideration but never expected to hear from him again.
Ten years later, April 2018 I picked up the phone in my office and a voice asked me if I indeed, wasn't Jeff Metcalf the playwright. He then re-introduced himself as that same director and said they wanted to produce the play in their 2019 season. The young man is now the director of the Teatret Svalegangen, in Aarhus Denmark and, with my permission the play would premiere in this very same theatre. He was a man of his word.
How did this turn into a documentary?
Almost eight years ago, a young filmmaker, Patrick Selvage approached me about doing a documentary about my journey through cancer. His idea was to follow the three hopes that I wished for the play ending, he hoped with a world premiere of "A Slight Discomfort" somewhere in the universe.
As it just so happens, he will now be able to complete the documentary film in Denmark. His documentary, "Buying Time" was shown this past January at a FireFilm/Sundance venue with wonderful reception. Next year, it will be in several festivals and hopefully return to Sundance as a full-length documentary.
When and where can people see the play?
In mid-April, "A Slight Discomfort" will be performed at Weller Book Works in Trolley Square before heading off to Italy. I would suspect it will be a long time before it returns to Salt Lake City but in the meantime, I'm working on two new plays and putting a novel to bed with a publisher. I'm very excited about the novel (fiction) called "Wacko's City of Fun Carnival." It is loosely based on my own experience of running away from home at 15 ½ and joining a traveling carnival.
As my mother always told me, "How could somebody be born on Halloween, in a cab, in San Francisco and not have an interesting life?" And, she was absolutely correct.