University of Utah Awarded 2023 Robert H. N. Ho Family Foundation New Professorship in Buddhist Studies

---
Grant Will Provide Seed Funding to Support New Teaching Position in Buddhist Studies
The University of Utah has been awarded the 2023 Robert H. N. Ho Family Foundation New Professorship in Buddhist Studies. The grant program, administered by the American Council of Learned Societies, ACLS, provides four years of seed funding to institutions of higher education to support new teaching positions in Buddhist studies.
"The Robert H. N. Ho Family Foundation Program in Buddhist Studies plays a vital role in supporting scholars and institutions advancing understanding of this rich and complex religious tradition and its influence on culture and society," said ACLS President Joy Connolly. "ACLS is thrilled that the University of Utah has chosen to foster a new professorship in Buddhist Studies, advancing knowledge of this tradition across the Utah community of students, scholars, and the public."
The New Professorship grant will help establish the first tenure-line position focused on teaching and research in Buddhist Studies in the College of Humanities at the U. This follows the program's previous new professorships at universities in Thailand, France, Hungary, Mexico and the United States.
"We are so grateful to the Robert H. N. Ho Family Foundation and the ACLS for this funding," said Hollis Robbins, dean of the College of Humanities. "We are eager to nurture a flourishing community of scholars working on Buddhist Studies and religious studies and to sharing new research with the broader scholarly community."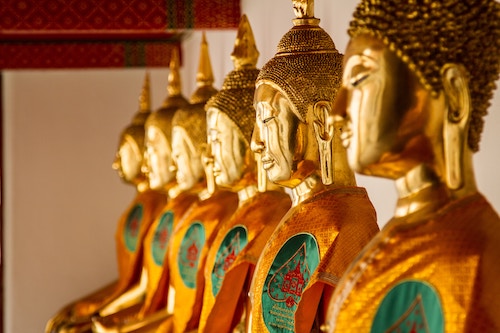 The appointment will not only strengthen the U's Asia-related research and teaching, it will also help better serve the growing ethnic, cultural and religious diversity of students. The successful candidate will be housed in the history, philosophy, or world languages and cultures department, depending on their disciplinary training, and be affiliated with the federally funded Asia Center.
"The U has long been a beacon of excellence in teaching and research related to Asia, but the College of Humanities has never had a tenure-line faculty member whose work focuses on Buddhism," said Eric Hutton, chair of the Department of Philosophy at the U. "The new professorship will significantly complement and enhance opportunities for students and faculty interested in Asia and in the study of religious traditions. We look forward to hiring the new faculty member and are excited about various future developments that may arise from having such a scholar in the College of Humanities."
The U joins 20 other 2023 awardees in The Robert H. N. Ho Family Foundation Program in Buddhist Studies. Established in 2014, the program offers fellowships and grants that expand the understanding and interpretation of Buddhist thought in scholarship and society, as well as strengthens international networks of Buddhist studies.