Assistant Professor Christie Toth featured in At the U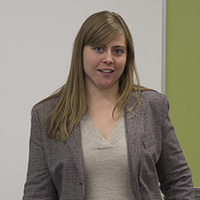 Assistant Professor Christie Toth in the U's Department of Writing & Rhetoric Studies was featured in At the U for her amazing efforts in leading a research project that aims to better understand transfer students' experiences at the U. Through this research, Toth hopes to develop courses that support transfer students' writing transitions and connect them with the campus community and its resources. The project began in fall 2015 and will continue through the spring 2016 semester.
Working with her on this project are several incredible students. Sandra Salazar-Hernandez, Nathan Overturf-Lacy, Davor Simunovic, Nic Contreras, Justin Whitney, and Shauna Edson. All were community college transfer students, and all but Justin started out at SLCC. Furthermore, they are all majoring or minoring in at least one Humanities field.
Toth commends them for being such a great team to work with. They have helped transform the project and raise awareness about all the wonderful things transfer students are bringing to the table.
Read the full article here.