Edna Anderson-Taylor Communication Institute Opening
---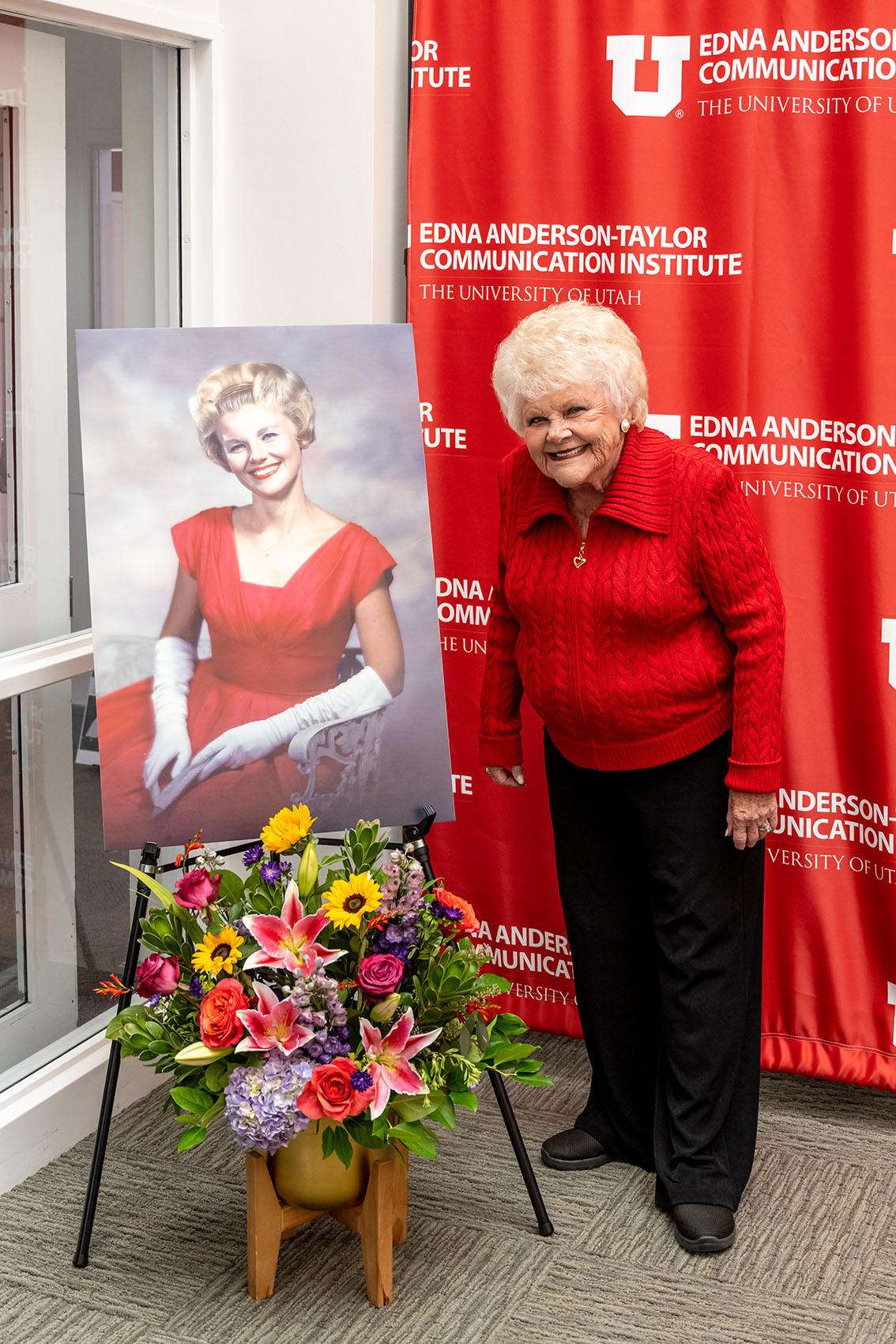 Edna Anderson-Taylor at the Comm Institute opening standing next to a portrait of herself.
On Oct. 10, 2023, the College of Humanities hosted a ribbon-cutting ceremony, marking the culmination of an extraordinary journey made possible by a transformative $1 million gift by Alumna Edna Anderson-Taylor and Jerry Taylor. In recognition of their unparalleled generosity and unwavering commitment to the future of communication and journalism, the college named the Communication institute – housed in the department of Communication – in her honor, officially unveiling the Edna Anderson-Taylor Communication Institute.
"Edna has fundamentally changed the field of communication and journalism in Utah and beyond through her groundbreaking career," said Hollis Robbins, dean of the College of Humanities. "As one of the only women on television during her time, we are deeply proud that the Communication Institute bears her name and serves as a continual reminder of Edna's hard work, tenacity and joyous spirit."
As a trailblazing figure in the world of broadcasting, known for her significant contributions to television programming, education, and the field of communication, Anderson-Taylor's remarkable career transcended traditional gender roles and broke new ground in the industry.
Known as "Miss Julie" to Utah children growing up in the 1960s and 1970s, Anderson-Taylor hosted the nationally franchised show "Romper Room" at KSL-TV from 1964-1981. Each morning, she would film with six local children to play games, read stories, sing songs and repeat the magical phrase, "Romper bomper stomper boo, tell me, tell me, tell me do, Magic Mirror, please tell me today, did all my friends have fun at play?" before reading a few lucky children's' names on-air. After ending her 17-year run on "Romper Room," she moved over to the advertising department at KSL and later became a community advocate and philanthropist.
Anderson-Taylor was not only a television host but also an advocate for education. She understood the power of television as a medium for quality education and used her platform to promote positive messages and values. Her pioneering spirit and contributions to broadcasting paved the way for future generations of television hosts and personalities. Her impact on the industry, and her ability to engage and connect with audiences, continue to be celebrated and remembered as part of her enduring legacy in the world of television
"The donations from Edna Anderson-Taylor and all those who followed her have been truly transformational for the Communication Institute," said Sean Lawson, professor of communication and director of the institute. "Though the institute has existed since 1997, this is the first time it will have a dedicated space of its own. What's more, because of Enda's vision, this is the first time it will have the financial stability to offer programming on an ongoing basis and without worry for its financial future. I am deeply grateful for Enda's example and legacy reflected by the institute that now bears her name."
The Edna Anderson-Taylor Communication Institute, located within the Language and Communication building at the University of Utah, is a hub for innovative and cutting-edge work in communication. Its primary purpose is to benefit students and the community. This Institute fosters a collaborative approach to reimagining global communications and aims to push the boundaries of the field. It brings together academic disciplines, approaches, scholars and practitioners to broaden the understanding of communication research. Moreover, it serves as a platform for students to explore the role of communication in addressing today's most critical challenges.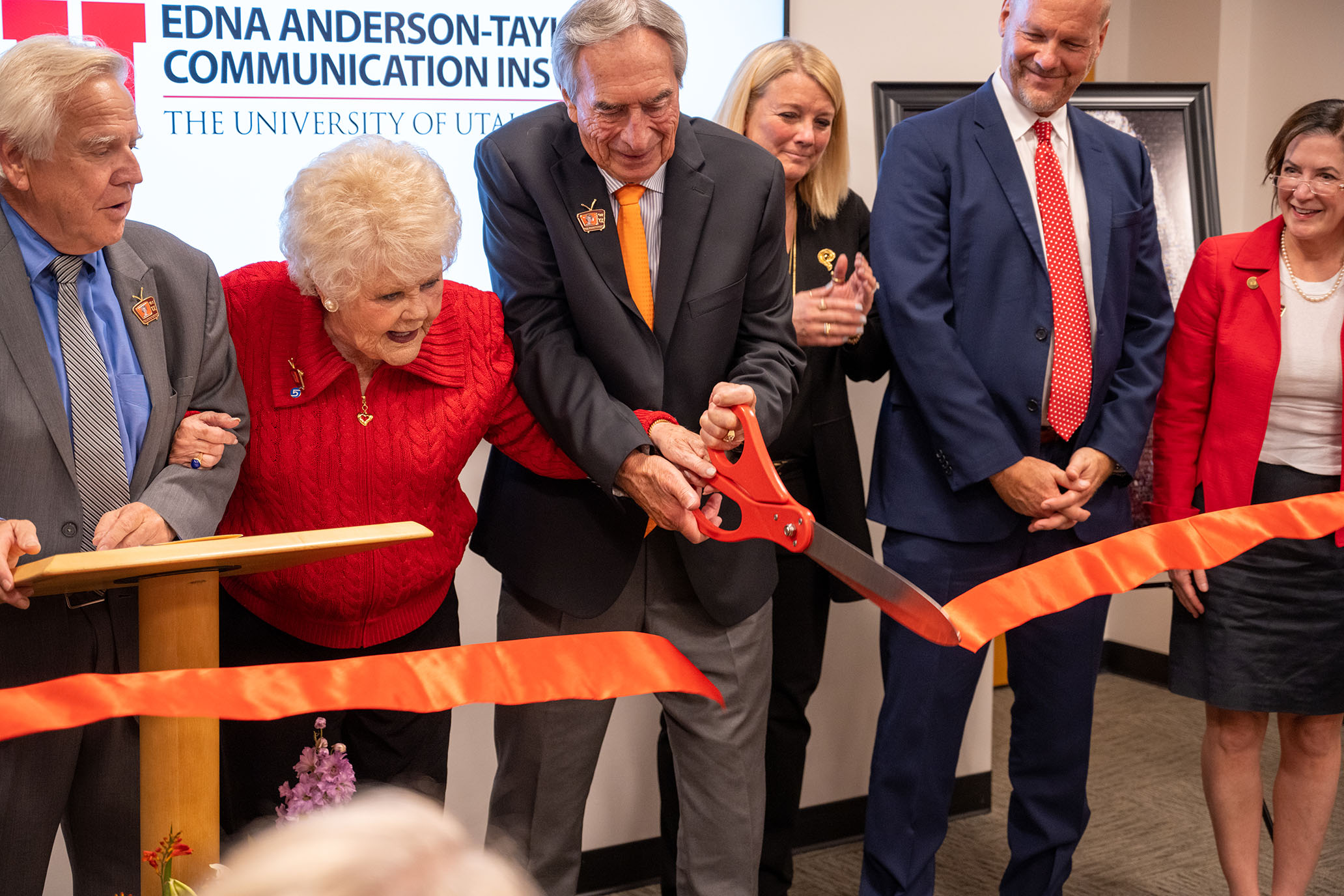 With the funds from Anderson-Taylor's endowment, the institute will host symposia featuring keynotes, seminars and community panels about communication research and topics.
The new space has already had the privilege of hosting freelance journalist, Leah Sottile, about her career covering some of America's most notorious far-right characters. On Nov. 30, 2023, the institute will hold a workshop about protecting online users against hackers and cybercriminals, given by Lawson, a cybersecurity expert. With the help of funds from Anderson-Taylor, the institute is also able to partner with significant events, like the recent talk by Katie Hill, senior vice president of communications at the NFL and former communications director for Barak Obama, held at the Hinckley Institute of Politics.
The Edna Anderson-Taylor Communication Institute will also work to amplify the voices of women in journalism and serve as a one-of-a-kind resource to understand the most pressing issues of public concern today and into the future. The Institute is committed to elevating diverse voices in communication in honor of Anderson-Taylor's impactful legacy and career. The institute is proud to report that the majority of speakers last year were women and people of color.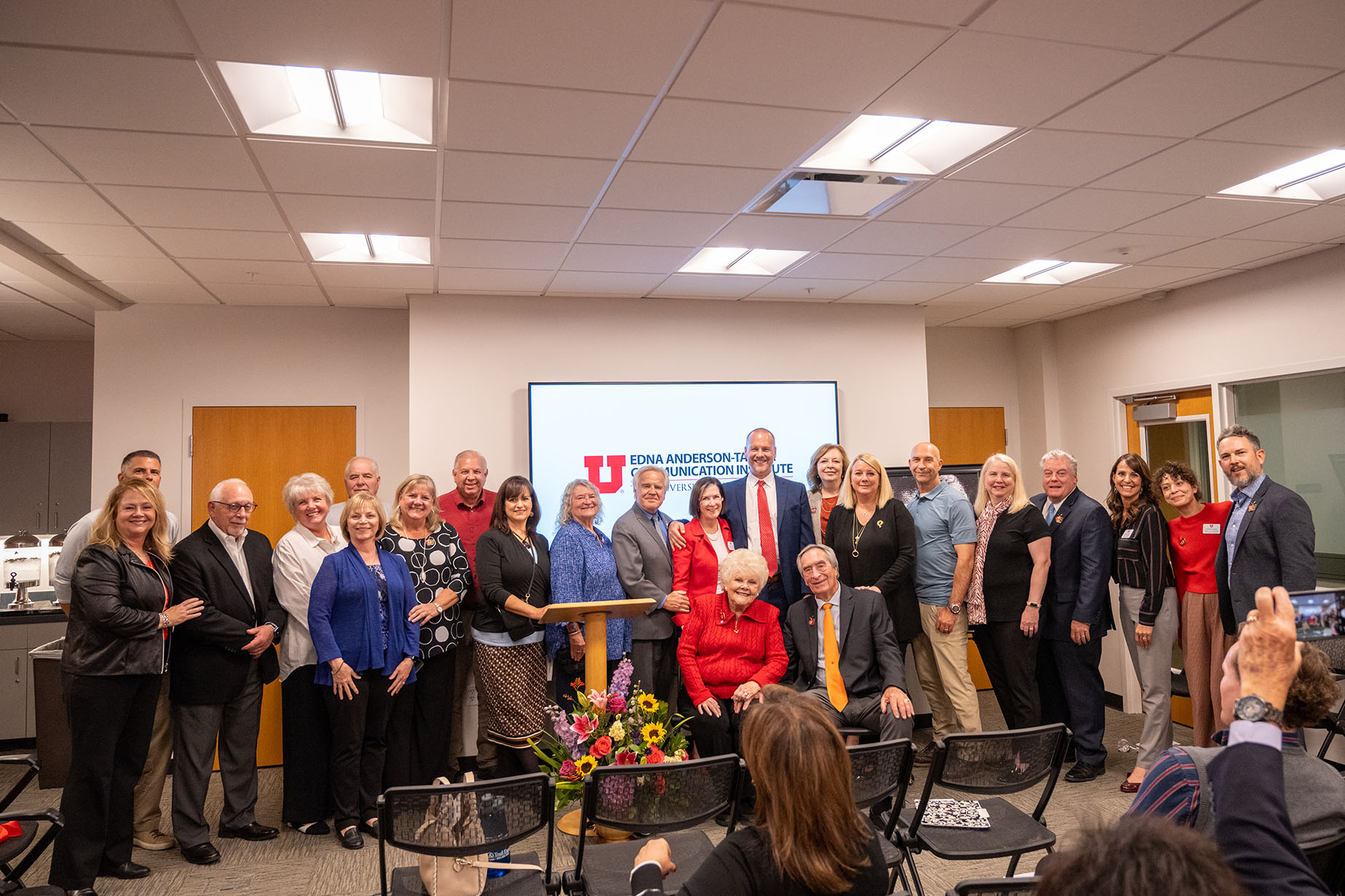 More than 430 individuals attended events held at the institute last year, and in the coming years, thousands of students and community members will convene in the space for symposia and workshops by faculty, media and communication professionals.
The College of Humanities extends its appreciation to the following donors for their invaluable contributions to the Edna Anderson-Taylor Communication Institute.
Edna Anderson-Taylor and Jerry Taylor, John Anderson, Jr., Robert Avery and C. Frances Gillmor, Julie Burdett, Deanna Butler, Elaine G. Ellertson, John H. and Joan B. Firmage, Cecelia Foxley, Kay B. Greene, Rick and Julie Higgins, Duane Hill, Sarah Huntzinger, G. Frank and Pamela M. Joklik, Mark C. and Diana E. Kirk, Alfred and Ruth Ann Lieber, Judith Maack, Edward B. Moreton, L. S. McCullough, Ruth L. Novak, Barbara W. and Glen Richman, Jane Roach, Hollis Robbins, Paul A. and Karen B. Ross, Ned Jay and Leslie Ryder, Max and Teri H. Savage, Morgan Stinson, Melanie Taylor, Ryan J. Taylor, Jeraldine T. Wayman, and Carlene A. and John C. Williams.
The Edna Anderson-Taylor Institute was made possible by Edna, Jerry, and their family's visionary commitment and generosity. To join the many individual donors who have supported the Institute alongside Edna, donations can be made here. For more information about how to be involved, please contact leslie.wright@utah.edu.
---
MEDIA CONTACTS
Jana Cunningham, University of Utah College of Humanities
jana.cunningham@utah.edu | 801-213-0866
Published November 15, 2023