Join Us for the Frontiers of New Media Symposium
The Frontier of New Media Symposium explores the historical and cultural development of new communication technologies in the context of region, identity, and power. The symposium is presented jointly by the Departments of Communication and History at the University of Utah and is free and open to the public.
It will take place on Thursday, September 24, 2015.
The theme for 2015 is "Digital Democracy, Digital Divides," and asks scholars, activists, and journalists to consider the past, present, and possible futures of the Internet as a force for good in the world.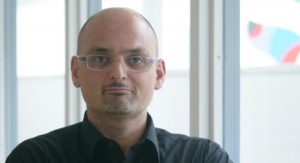 The symposium will feature distinguished keynote speaker Marwan M. Kraidy, the Anthony Shadid Chair in Global Media, Politics and Culture, and Director of the Project for Advanced Research in Global Communication (PARGC) at the Annenberg School for Communication at the University of Pennsylvania.
Drawing on a forthcoming book about the body as medium, icon and site of power and resistance in the Arab uprisings, this lecture first identifies two modes of activism. The first, Burning Man, is biopolitical, such as self-immolation. The second, Laughing Cow, is transgressive, and includes political humor. But in a second stage, the lecture focuses on a kind of activism that blurs boundaries between the radical and transgressive activism: nude body activism.
Public nakedness sets the public sphere ablaze, condensing anxieties about cultural authenticity and political sovereignty, creating a perfect storm where cultural, political, biological and cybernetic metaphors converge in women's bodies. Enacting a comparative analysis of political nudity reaching back to the French Revolution and drawing on theories of art, revolution, and citizenship, the lecture identifies a fundamental democratic divide in revolutionary activism and proposes a renewed understanding of embodiment at the nexus of materiality and digital communication.
For more information, and to view the full schedule, see the Frontiers of New Media website.