Professor Greg Smoak's American Indian History Course to Air on C-SPAN 3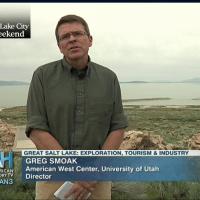 Professor Greg Smoak, Director of the American West Center at the University of Utah, will appear on C-SPAN 3 this Saturday, October 3, as part of its American History TV series. C-SPAN 3 will broadcast a lecture given by professor Smoak as part of his American Indian History course here at the U.
The lecture will air twice on October 3:
After the lecture airs, viewers will also be able to find the lecture on the following website: http://www.c-span.org/person/?gregsmoak
This is not the first time that Professor Smoak has appeared on C-SPAN. In 2014, he talked about Utah's Great Salt Lake, the Native Americans who used the land, and the European explorers who first saw the Lake. He visited sites that attracted vacationers and tourists during the late 19th and early 20th century and talked about some industries that have grown in the area due to the resources that the lake has to offer.
You can find video of this previous appearance at the link above.