What in Tarnation! Fossilization and Migration at the Great Salt Lake

Tanner Humanities Center hosts author Gretchen Henderson Tuesday, April 18, at 2 p.m.

by Missy Weeks
---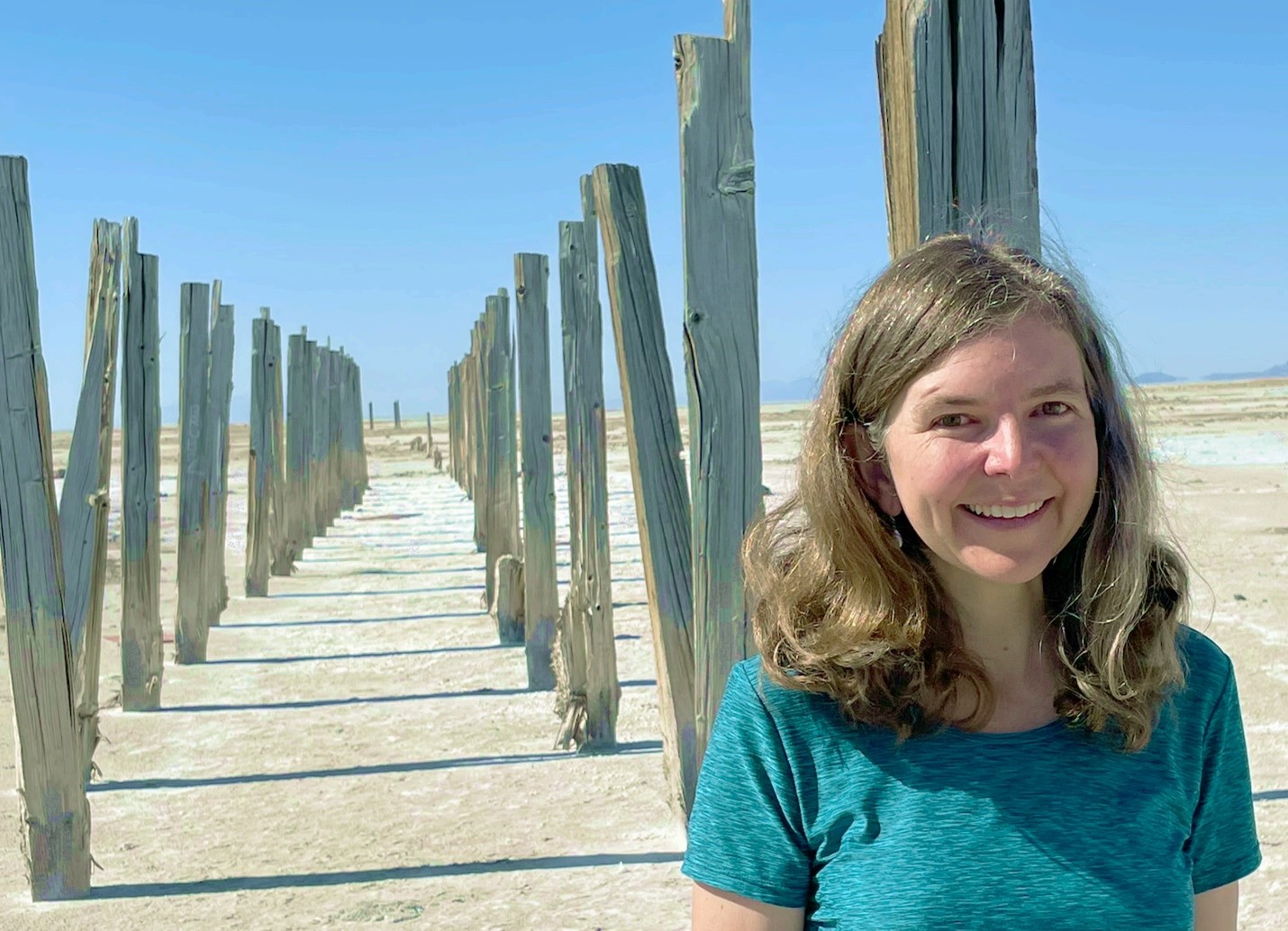 Gretchen Henderson
April 12, 2023 – The naturally occurring phenomena of tar seeps are becoming more exposed at the Great Salt Lake as the climate rises. Causing insects, rodents, coyotes and birds, such as the American White Pelican, to become stuck and entrapped in the sticky tar.
Gretchen E. Henderson, author of "Life in the Tar Seeps: A Spiraling Ecology from a Dying Sea," will join the University of Utah, April 18, at 2 p.m. in the Carolyn Tanner Irish Humanities Building (CTIHB), room 109, to discuss her latest book and the diverse forms of life the Great Salt Lake houses. Henderson's lecture will be followed by an open house to celebrate the Tanner Humanities Center's 35th anniversary, with a brief program, 3:30 p.m. in the CTIHB room 144.
"The Great Salt Lake is tens of thousands of years old and – we hope – will continue to exist in some form or another in ten thousand years," said Hollis Robbins, dean of the College of Humanities. "Humans are not always very good at thinking across such spans of time, and we depend on writers such as Gretchen Henderson to guide us out of concerns in front of us, to see across epochs, cultures, landscapes, continents and atmospheres in order to grasp more fully the current moment."
Through her deep understanding of the history and ecology of the Great Salt Lake, Henderson will provide an insightful exploration of its complex ecosystem and the challenges it faces, as well as the potential for restoration and conservation.
"We are thrilled to be celebrating 35 years of promoting the humanities at the University of Utah," said Erika George, director of the Tanner Humanities Center. "It is our honor to continue the tradition of elevating humanities research and carrying forward the legacy of contributing to enriching humankind's moral and intellectual life."
The event is free and open to the public, but registration is required.
About The Tanner Humanities Center
The Tanner Humanities Center at the University of Utah is proud to be celebrating 35 years of promoting humanities inquiry and exchange. The Center supports innovative scholarly projects and creates opportunities for interaction among scholars, students, and lifelong learners. It offers programs in three major areas: public outreach, educational enrichment, and academic research. The activities reflect a vision of the humanities as not only relevant, stimulating, and cutting-edge, but also essential for developing critical thinking, tolerance, and respect on campus and in the community.
---
MEDIA CONTACTS
Missy Weeks, Tanner Humanities Center
missy.weeks@utah.edu |801-581-8879
Published April 12, 2023