Kaitlyn Klein Serving in the US Peace Corps in Ukraine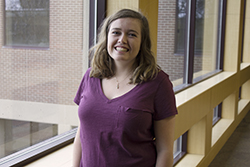 Kaitlyn Klein, a College of Humanities Alumni, is now serving in the US Peace Corps in Ukraine. Kaitlyn graduated in the Spring of 2016 with a double major in Peace & Conflict Studies and Asian Studies. She was also the recipient of the 2016 Excellence in Humanities Award, was an RA for the Humanities House, and worked at the Tanner Humanities Center on campus during her time as a student.
It's no surprise after a successful undergraduate career that Kaitlyn was accepted for this position in the Peace Corps, and the College of Humanities is extremely proud to call her an alumni. We look forward to seeing everything Kaitlyn accomplishes during her time in Ukraine.
You can follow Kaitlyn's adventures by reading here blog online here.