Karin Baumgartner honored at Sigma Chi Professor Appreciation Night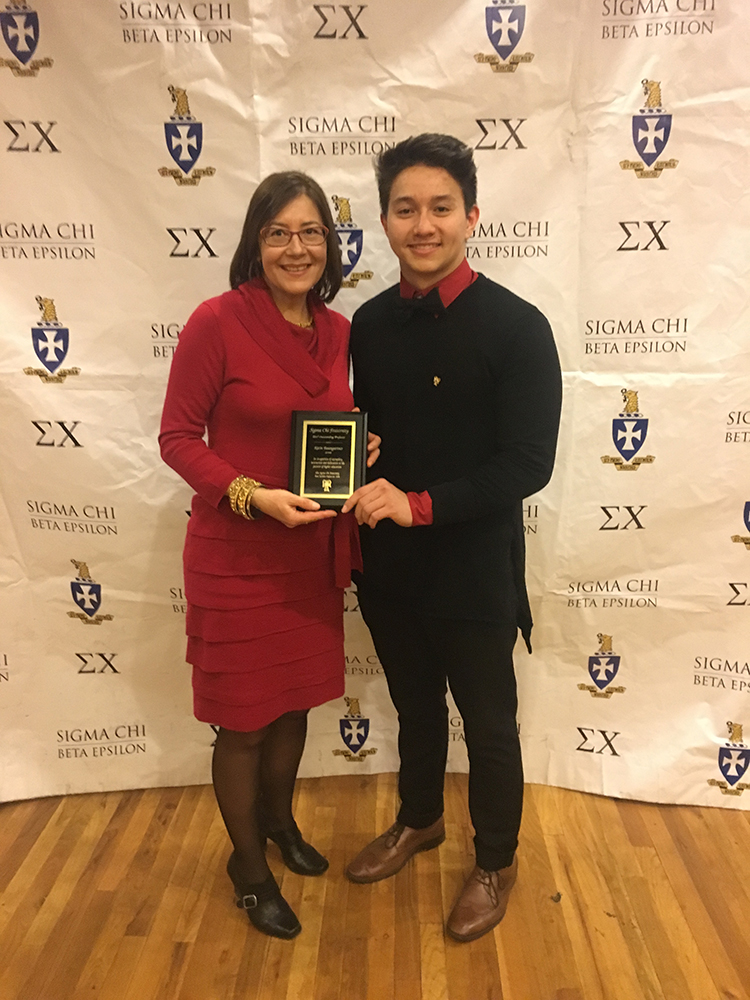 World Languages & Cultures Associate Professor Karin Baumgartner was nominated by her student, JC Chun, to be honored at the Sigma Chi Professor Appreciation night on March 8, 2017. JC tells us in his own words why he nominated Professor Baumgartner:
"My experience with Karin as my professor started out a bit bumpy. I began her class (GERM 3750 From Grimm to Disney – The Birth of the Modern Fairy Tale) thinking it would be an easy A for the semester, knowing I was also pledging Sigma Chi that same semester. The major projects in the class were analysis essays, and being a Mechanical Engineering major, writing definitely isn't my strong suit. The first essay grade came back and it was a 63%. I was frustrated because I didn't think my paper deserved a grade that low. Karin e-mailed me telling me we needed to meet; she took time out of her week to meet with me on the Friday of Fall Break, a day we didn't even have school. This meeting was definitely eye opening: we discussed school, life, and even the work we do at The Sigma Chi fraternity. She explained to me that writing a good essay doesn't mean following the "5-paragraph essay", and that being a good writer is a skill that can be learned through hard work. Karin also told me she would allow me to re-write my paper, with her help. Over the next month I would talk to her about my essay once a week and we would stay in contact through email. Upon re-submission, I received an A- on my paper."
"I nominated Dr. Baumgartner because she showed to me a special passion towards her responsibilities as a professor to make sure students are really learning, and for going beyond the expectations to teach me and my peers how to become proficient writers, even more so than my writing class taught me. One of the three main ideals at Sigma Chi is learning, because without an educational institution, we as a fraternity would not exist. We urge our members to not be average, but to exceed expectations in all aspects of life. I believe Karin exceeds her expectations as an educator, and that is why I chose to recognize her as an exceptional professor."
Congratulations Professor Baumgartner on this wonderful award!