Blending German Studies and Environmental Studies: Faculty feature with Katharina Gerstenberger

By Corinne Clarkson
---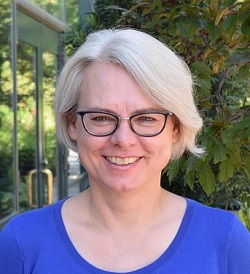 Katharina Gerstenberger
As editor of the prestigious German Studies Review, Katharina Gerstenberger, professor of German at the University of Utah, uses the opportunity to foster an international community within the German Studies discipline. One way she is doing this is by connecting with and including younger scholars who are covering topics that would not have been studied 50 years ago, such as relations between Asia and Germany, the Turkish community in Germany, and the influence of Black German artists and authors.
"The field is developing," Gerstenberger said. "And it's important to me to make sure that these developments and conversations are reflected in the journal. Doing this takes a lot of time, but it's very enjoyable. I know we have a lot of really talented young scholars, and it's just great to see somebody's work published in the end. Other people read it and then build on it. It is rewarding, and I feel like I can contribute to German Studies."
The German Studies Review, founded in 1978, is an academic journal published three times a year and is arguably the most important German studies journal in the United States. The journal covers history, literature, film, music, art and political science in the German-speaking world. As editor, Gerstenberger works to publicize the journal and invite German studies scholars to submit their work. After they submit, Gerstenberger decides whether the paper is a good fit for the journal and if it is acceptable quality. The article then goes through a double-blind revision process, and in the end, Gerstenberger decides what material they publish in the journal.
In addition to her work with German Studies, Gerstenberger has cultivated her passion for environmental issues and has worked closely with the Environmental Humanities program in the College of Humanities. She describes environmental humanities not as taking samples and running scientific tests but as seeing, for example, how certain types of literature approach and document environmental topics. In the case of German literature, this pattern of addressing environmental issues goes back to the industrialization of the 19th century. She explained that the term "sustainability" actually comes from a 17th-century German forester who developed the technique of reforesting depleted areas.
Gerstenberger has focused much of her environmental research on her interest in nuclear sites and disasters. Many of her long-term projects touch on these issues. She is interested in comparing the literature, film and visual art surrounding the Chernobyl, Fukushima and Bikini Atoll disasters. She analyzes how artists and authors approach and discuss these events and how they are presented to a larger audience. Gerstenberger wants to discuss the consequences of these events, the potential dangers nuclear energy poses, and how these different artistic mediums express these dangers.
"I would hope for people to be aware of the consequences of nuclear contamination," Gerstenberger explained. "Often this seems very far away, but when you look at literary texts [and art], then all of a sudden it's not so far away…I want to draw attention to how people tell a story about something really traumatic, not only to the individuals who go through these disasters but also to the area of the land, the environment, the animals, the plants, the water, and the air that's affected by this. I want to analyze how people turn this topic into works of art and draw our attention to what has happened in these places…What these authors and artists do to put us into the frame of mind to understand this a little bit better."
Gerstenberger hopes that by studying how these nuclear disasters are presented in literature and art, future disasters can be avoided. Her position in both German Studies and Environmental Studies demonstrates a unique blend of interests, creating a powerful influence in both fields.
After receiving her master's degree from Free University in Berlin, Gerstenberger attended Cornell University for her doctorate in German literature. She began her teaching career at the University of Cincinnati, where she worked as a professor and head of the German studies department. In 2012, the U hired her as a German professor and the chair of the World Languages and Cultures department. She served as the Interim Director Environmental Humanities Program from 2020-2021.
---
MEDIA CONTACTS
Jana Cunningham, University of Utah College of Humanities
jana.cunningham@utah.edu | 801-213-0866
Published March 15, 2023