Introducing Katheryn Christy, a Post-Doctoral Fellow in the Department of Communication
A Q&A with Katheryn Christy
Katheryn (Kate) Christy is a post-doctoral fellow in Professor Jakob Jensen's Health Communication & Technology (HCAT) lab in the Department of Communication. Kate recently completed her Ph.D. at the School of Communication at the Ohio State University, under the direction of Professor Jesse Fox. Her dissertation was titled, "Investigating the Use of Interactive Narratives for Changing Health Beliefs: A Test of the Model of Interactive Narrative Effects." Kate will be working on Professor Jensen's NIH New Innovator grant, conducting research using the Ozo camera in Immersion Lab, and continuing her fascinating research on interactive narrative. We caught up with Kate to ask her a few questions about being a post-doc, her research, and her impressions of Utah.
This is your first time living in Utah. Any favorite things so far?
I'm constantly impressed by how beautiful Utah is! It's really strange for me to look out my apartment window and see these majestic mountains just sitting there practically in my backyard. I'm really looking forward to continuing to explore the parks in the area, especially getting out to actually SEE the Great Salt Lake.
Where are you originally from?
I'm originally from Pittsburgh, PA. Pretty much all of my family still lives there and I think I'll probably always be a little bit of a Pittsburgher at heart (go Steelers!).
What keeps you busy outside of work?
I spend a lot of my leisure time reading. I'm a huge fantasy fan, and I'm always re-reading favorites by Elizabeth Moon, Terry Pratchett, Patricia Briggs, etc. I also spend a fair amount of time playing games with my friends. We're literally spread across the world (U.S., England, Sweden, and Serbia!), but through the magic of the internet we can all get together once a week or so and play a couple hours of board games or tabletop RPGs. I've also got a wonderful canine companion who keeps me plenty busy throwing balls and taking walks.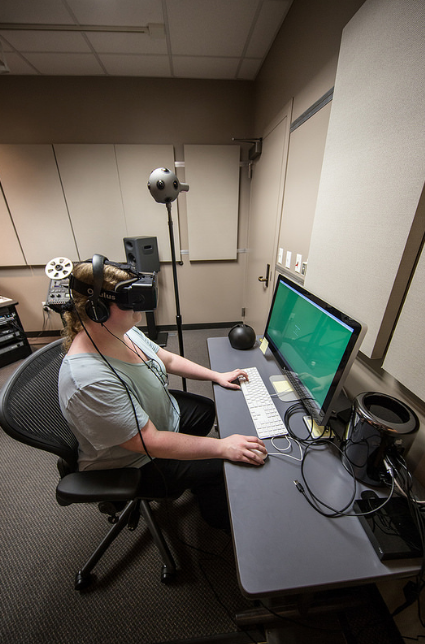 What is a post-doc?
That's an excellent question! Post-docs can vary a lot between positions, but for the most part, a post-doc is someone who has earned their PhD and has been hired (usually as part of a grant) to assist with the research process. This can be things like running participants, analyzing data, and helping with grant writing. In exchange, the post-doc is mentored by their primary investigator (PI) in a number of areas that can include teaching, research, and issues common to professional academics. Ultimately, being a post-doc helps you become even better prepared for your future career.
What are your long term plans?
My goal is to obtain an academic position at a university. I love research and teaching, so it's hard to imagine myself doing anything else!
What is an interactive narrative?
At its most basic, an interactive narrative is a story that allows you, the reader, to play a part in how the story is presented, how it unfolds, and/or how it ends. A good example is one of the old "Choose Your Own Adventure" books (turn to page 63!), but interactive narratives are becoming more and more common in today's media. For example, the vast majority of video games on the market today include interactive narratives and a lot of online advertising is beginning to experiment with interactive narratives. My research suggests that interactive narratives may have more influence on people's beliefs, attitudes, and behaviors than non-interactive narratives, so it's important for us to begin understanding how they work and why they might influence us this way.
What are you working on right now?
Right now, I'm doing a lot of work on a variety of manuscripts, both revising pre-existing articles and writing new ones. Between myself and Dr. Jensen we've got quite a few projects at various levels of completion, so we're trying to get those out and under review before formal data collection on our newest projects begins. A lot of the work we're doing in the Immersion Lab right now is in preparation for our first big round of data collection (creating videos, pre-testing them, etc.).