The Intricacies of Communication: Faculty feature with Kevin Coe
by Kayleigh Silverstein
---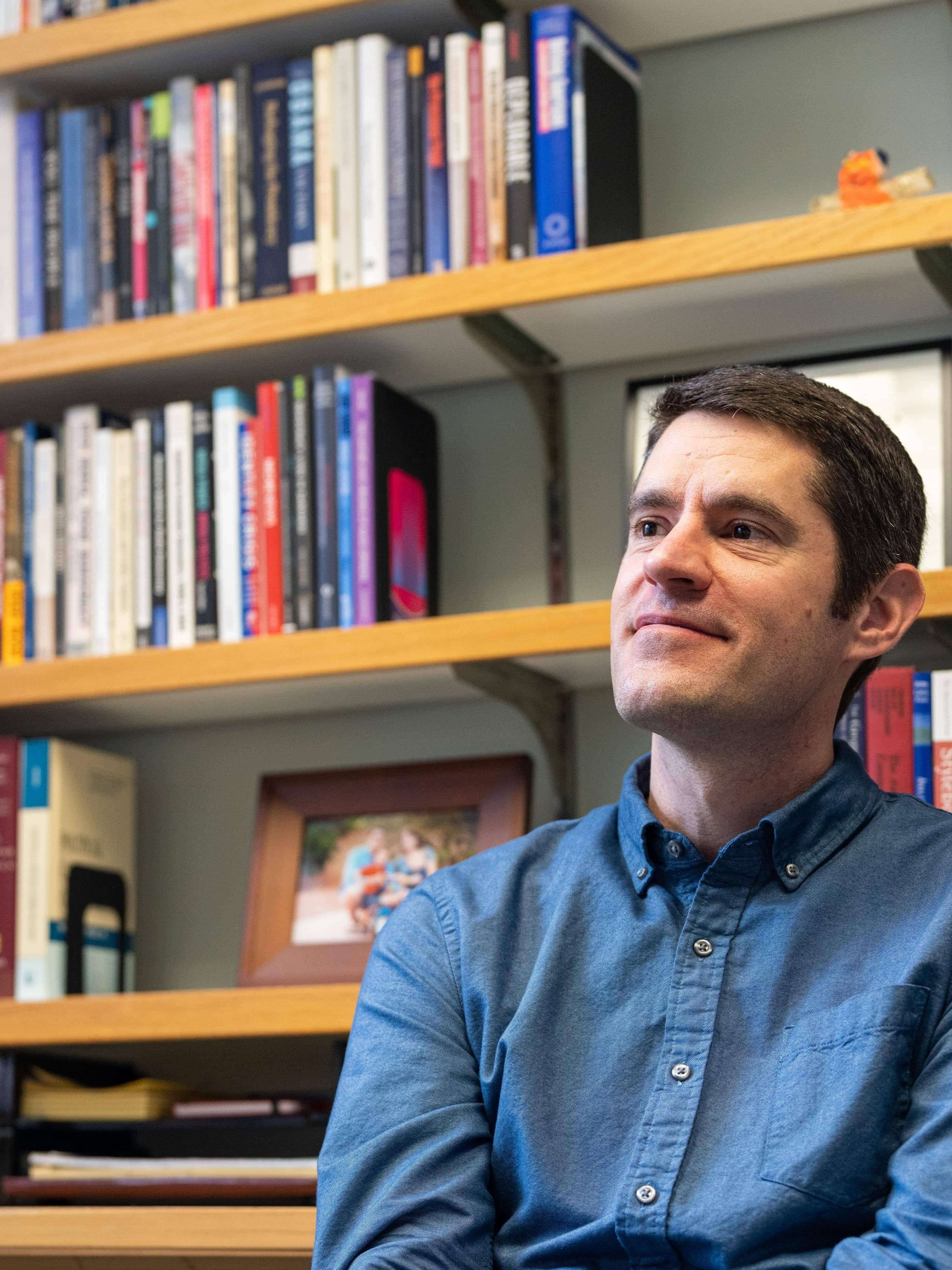 Kevin Coe
Kevin Coe, professor of communication at the University of Utah, explores how messages matter.
After growing up in Tacoma, WA, Coe moved to Illinois to complete his doctorate and then taught at the University of Arizona for five years. After spending time in the desert, he was searching for water, trees and mountains — so, in 2013, he moved to Salt Lake.
"The department here was really appealing because it's a big and vibrant with a lot of faculty and students," he said. "The campus was growing at the time and just recently entered the PAC-12."
At the U, Coe teaches classes surrounding strategic communications, the largest area of emphasis for students in the department.
"It might be a buying behavior, it might be becoming aware of a brand, but the idea with most strategic communication is that there's some goal when you set out to reach a certain audience. Strategic communication is about how best to achieve that goal, how to do it ethically, how to do it in ways that access various forms of data to make their decisions" said Coe.
Coe didn't always envision himself studying communication, but while completing his undergraduate degree at the University of Washington, he took an interpersonal communication class that really resonated with him.
"I found it fascinating. We were talking about things that really seemed relevant to everybody's lives. I could draw connections very easily between the content and things that were happening in my life and so I started taking more communication courses because of that, and I ended up majoring in it," he said.
Coe set his mind to sports broadcasting, with the end goal of being the play-by-play announcer for his favorite team, the Seattle Seahawks. Unfortunately, the program at his school didn't have a broadcast track, so he went in a different direction. His professors encouraged him to pursue a master's degree in communication where he could conduct research and teach.
"Going on for a PhD and becoming a professor started to seem like a really good way to do things because I was finding a lot of joy in it," Coe said.
Coe's research focuses on aspects of the changing presidency, including how elements of the information environment, such as social media, evolve.
"When I started studying the presidency, around 2004, social media didn't really exist in any meaningful sense. I've been studying the presidency over a time where we've really dramatically transformed the ways that people consume information, including information about politics and the president, so forth," said Coe.
He has collaborated with University of South Florida political communication professor Josh Scacco since 2014, writing papers and most recently publishing a book, "The Ubiquitous Presidency," which explores the media environment a president operates in.
"I love studying that stuff. I love studying the changes in a familiar institution like the presidency, and as the information environment changes, how they engage the changes as well," said Coe.
Both Coe and Scacco made a visit to each other's institutions to write together and share ideas with students. These sorts of collaborations, according to Scacco, are "helpful in terms of being able to enrich student experiences at each of our institutions."
Robin Jensen, professor of communication at the U who has known Coe since grad school, said the department is lucky to have him and called him a "rare scholar."
"I think everyone who comes into contact with him is impressed by his thoughtfulness and kindness, and also his intellect and drive and that has been the case through grad school, and to this day," Jensen said.
To Coe, the most exciting aspect of teaching are his students.
"I always feel lucky to continue to be exposed to people who are thinking, growing and changing. That's always been an exciting aspect of this job. I'm sure it's what will keep me doing it for a long time," he added.
---
MEDIA CONTACTS
Jana Cunningham, University of Utah College of Humanities
jana.cunningham@utah.edu | 801-213-0866
Published March 23, 2023