Can Science Fiction Fuel Social and Political Change in our Ecological Crisis?
Kim Stanley Robinson, acclaimed science fiction author, to speak at the U, Thursday, March 16, 7p.m.
---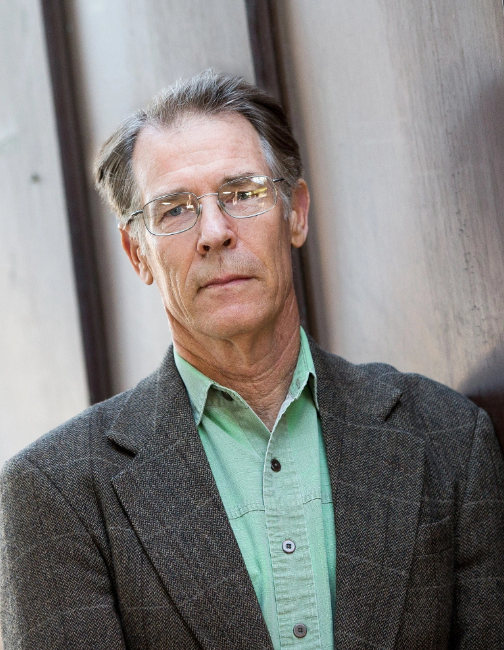 Kim Stanley Robinson
March 3, 2023 – "The danger of mass deaths from overheating is very real," says Kim Stanley Robinson in an interview with Liz Jensen at Writers Rebel about his climate fiction novel, "A Ministry for the Future." "I wanted to warn readers that bad things are going to happen; [and] describe humanity reacting to the climate crisis in an uncoordinated way that nevertheless dodges the mass extinction event we have started, and comes to a better moment in future history, where even more progress could be made."
The Tanner Humanities Center at the University of Utah is pleased to host award winning science fiction author Kim Stanley Robinson for The Tanner Lecture on Human Values Thursday March 16, 2023, at 7 p.m. at Kingsbury Hall.
"We are thrilled to have Kim Stanley Robinson at the U," said Erika George, director of the Tanner Humanities Center. "His work speaks to pressing issues we're facing in our own community with the Great Salt Lake. It also invites us to imagine alternative futures. We're excited to hear his lecture and insights during our own ecological crisis."
Robinson will be discussing his exploration of a near-future world facing a global crisis caused by climate change in "The Ministry for the Future." He has been praised for his ambitious and vivid portrayal of a world struggling to cope with the consequences of their collective actions.
"Kim Stanley Robinson artfully weaves science, economics and politics into his work," said Hollis Robbins, dean of the College of Humanities. "His politicalyl astute and technologically informed science fiction writing is not only a reflection of our current climate crisis but also offers guidelines for our future."
Entry is free and open to the public, but registration is required. Books will be available for purchase at a book signing hosted by The Kings English following the lecture.
Robinson is best known for exploring themes of ecological and social issues since his first novel in 1984, "The Wild Shore." He has since written over twenty novels including his latest book "The High Sierra: A Love Story," the Mars trilogy ("Red Mars," "Green Mars," and "Blue Mars"), and "Aurora." Robinson holds numerous awards for his writing, including two Hugo Awards, two Nebula awards, and six Locus awards. His work has been featured in "The New York Times," "Newsweek," "Nature" and "Wired." In 2020, Barack Obama selected "The Ministry for the Future" as one of his favorite books of the year.
About The Tanner Humanities Center
The Tanner Humanities Center at the University of Utah is proud to be celebrating 35 years of promoting humanities inquiry and exchange. The Center supports innovative scholarly projects and creates opportunities for interaction among scholars, students, and lifelong learners. It offers programs in three major areas: public outreach, educational enrichment, and academic research. The activities reflect a vision of the humanities as not only relevant, stimulating, and cutting-edge, but also essential for developing critical thinking, tolerance, and respect on campus and in the community.
About The Tanner Lecture on Human Values
The Tanner Lectures on Human Values are delivered annually at nine institutions: Harvard University, Yale University, Princeton University, University of Michigan, Stanford University, University of California Berkeley, University of Utah, University of Oxford, and University of Cambridge. The purpose of these lectures is to advance and reflect upon the scholarly and scientific learning relating to human values. This intention embraces the entire range of values pertinent to the human condition, interest, behavior, and aspiration.