Remembering Emeritus Professor
Malcolm O. Sillars
---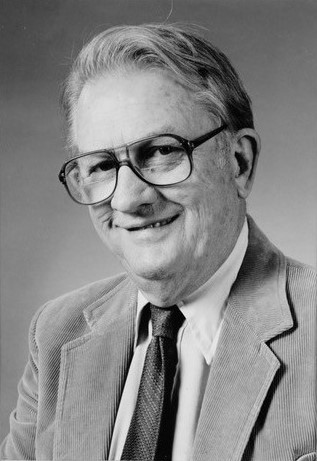 Malcolm O. Sillars, longtime University of Utah faculty member and administrator, passed away in Salt Lake City on Nov.12, 2018 at the age of 90. Malcolm was a special man with an extraordinary career, loved for his kindness, humility and dry humor. He is survived by his companion of 75 years, Char Sillars, along with three sons and daughters-in-law, four grandchildren, ten great grandchildren and many dear friends. Malcolm passed away due to complications from a bad fall, but enjoyed life to the end. On the morning of his death, Malcolm was still joking with friends while lying immobilized in palliative care.
Malcolm was an only son, born Feb. 12, 1928 in Union City, NJ to Malcolm Sr. and Dorothy Edna Sillars. After relocating to Los Angeles, Dorothy raised chickens and sold eggs to make ends meet while Malcolm Sr. served as a naval officer in WWII. After the war, Dorothy's egg venture grew into the family business, the Sillars Egg Ranch, in El Monte, CA. Malcolm backpacked as a child in the LA foothills, riding bikes with friends up Santa Anita canyon to hike up the stream. Later, family backpack trips and Mal's involvement with the Boy Scouts, where he became known as "our fearless leader," cultivated a legacy of love for the outdoors.
Malcolm was a first generation college student, who doubted his own abilities but was drawn to teaching and found a path through his talent for speech, drama and debate. In high school, counselors and teachers advised Malcolm that high school teaching was likely out of his reach and discouraged his interest in debate, as the team was for "really bright students." Malcolm persevered and exceeded expectations, winning the California state high school championship in two-person, policy debate during his junior year at Mark Keppel High School, and later, the Pi Kappa Delta debate national championship at Redlands College.
Malcolm married his high school sweetheart, Charlotte Jane Grimm, in 1948, then received his M.A. from Redlands (1949) and PhD at the University of Iowa (1955). Malcolm first taught at Iowa State University (1949-53), where three sons (Paul, Bruce and Alan) were born and Char washed diapers by hand while living in metal barracks. Malcolm later taught at California State University, Los Angeles (1954-56), San Fernando Valley State College (now California State University, Northridge; 1954-71), the University of Massachusetts (1971-74), and University of Utah (1974-98). Malcolm served as acting president of Valley State (1969-70) during a tumultuous period of anti-war and civil rights protests, following the resignations of three presidents in a single year. Preceding incidents included a demonstration with over 400 arrests and student-led occupation of the administration building, with the former president held captive. Malcolm left a sabbatical to take the acting president position, explaining to the LA Herald-Examiner in typical self-deprecating fashion that, "they asked 67 other people first, people who had enough sense to turn it down." Malcolm's remarkable composure when speaking to angry crowds and willingness to establish open, frank lines of communication with any group helped calm the situation and broker a detailed plan acceptable to all sides. Malcolm's approach ("I listen to them, and they listen to me") was credited by the Herald-Examiner with bringing "order out of chaos, substituting reason and dialog for force."
Malcolm was appointed dean of humanities at the University of Utah (1974-81), then returned to teaching as professor of communication at the U until retirement. Mal and Char embraced the Utah culture, enjoyed the mountain lifestyle, became loyal Ute fans, and hosted many parties for their close network of friends in the Department of Communication. Although not a religious man, Malcolm read extensively about Mormon traditions and Utah history, reflecting his inherent curiosity about the human experience and respect toward all people.
Over the duration of his career, Malcolm served as President of the Western States Communication Association and National Communication Association, was editor-in-chief of the Quarterly Journal of Speech, authored or co-authored books on public speaking, argumentation and rhetorical criticism, and produced an influential program of scholarship on the rhetoric of political and social movements. He was a key organizer of the Alta Conference on Argumentation from its inception in 1979. As NCA member, Mal was not a fan of the convention theme, so NCA had its "no theme" convention in 1980 when Mal served as president and refused to have one. Mal was a beloved mentor for numerous students and left a deep footprint.
Mal and Char spent summers at their cabin at Cedar Slope in the Sequoia National Forest of southern California, where they created indelible friendships and memories. In his later years, Malcolm researched and wrote a book on the history of the area, as tribute to the families and colorful personalities who mingled there. Family members will gather at the cabin next year at Malcolm's favorite fishing spot, Clicks Creek, as was his wish.
The Department of Communication and University of Utah will host a memorial reception on campus next spring, at a date to be announced. In lieu of flowers, Char requests that donations be made to the U's Malcolm O. Sillars Scholarship for students in the John R. Park Debate Society.
To donate, please visit: