Mark Bergstrom Awarded Western States Communication Association Lifetime Achievement Award
---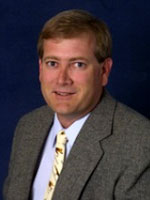 Mark Bergstrom
Associate Professor Mark Bergstrom was recently awarded the Lifetime Achievement Award from the Western States Communication Association.
The WSCA Distinguished Service Award is the highest honor bestowed by the Western States Communication Association. The award recognizes a deserving member who has made significant and long-standing contributions to WSCA and the communication field. The identity of the award winner is a closely guarded secret of the association and the winner is announced at the luncheon, to the surprise of members and the winner.
The award is considered the capstone of an individual's WSCA involvement and recognizes that the scholarship of an association does not happen without the service of those who organize, plan, publish, review and respond to that scholarship. Service is a love of leadership in the true sense of the term, as those who serve frame the conversations and invite scholars of an organization, to the points of inquiry for critical and transforming conversations. Service isn't just the foundation of the discipline; it is the bedrock, the moorings, the framework and structure.
Bergstrom's research and teaching are in the areas of interpersonal communication and relationships, with particular interests in intergenerational relationships and conflict, bereavement processes, and health care interactions.
Previous winners from the U include B. Aubrey Fisher, Malcom O. Sillars, Dennis Alexander and Robert K. Avery.
MEDIA CONTACTS
Jana Cunningham, University of Utah College of Humanities
jana.cunningham@utah.edu | 801-213-0866
Published March 8, 2023