History's Matt Basso Involved with Smithsonian Exhibit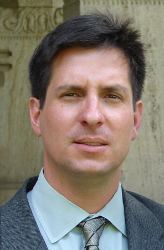 Associate Professor of History Matt Basso is the state scholar for the Smithsonian Institution's The Way We Worked, a Museum on Main Street (MoMS) exhibition. The exhibition is beginning its year-long Utah tour with a Grand opening at the Ogden Union Station Saturday January 28, 2017. Presented by the Utah Humanities Council, the Smithsonian Institution, and communities statewide, the Ogden portion of the tour takes place from January 28th through March 18th.
As the state scholar, besides spending the last year helping train local community historians in telling their communities stories of labor, Basso wrote a long interpretative essay about the history of work in Utah. A U History PHD student, John Christensen, is a co-author of the essay. John is also penning a large number of "Beehive Archive" radio stories about Utah's work history. 5,000 copies of the essay have been printed by the Utah Humanities Council and State History. It will be available at all the six local museums hosting the tour and it is also available online here.
See the full press release from the Utah Humanities Council here.
Congratulations Matt Basso!