Natasha Seegert and ShawnaKim Lowey-Ball
Receive the U's Early Career Teaching Award
---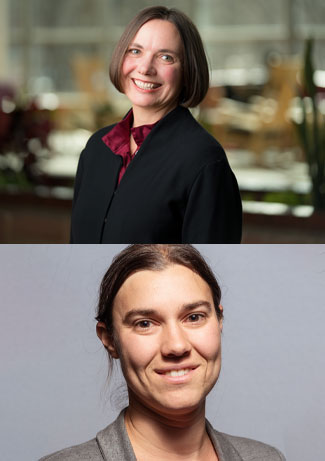 Natasha Seegert (above)
ShawnaKim Lowey-Ball (below)
Natasha Seegert, associate professor, lecturer of communication, and ShawnaKim Lowey-Ball, associate professor of history, have been awarded the University of Utah's Early Career Teaching Award, which is given to outstanding young faculty members who have made significant contributions to teaching at the U.
The Teaching Committee looks for faculty members who have distinguished themselves through the development of new and innovative teaching methods, effectiveness in the curriculum and classroom, as well as commitment to enhancing student learning. The award comes with a one-time cash prize of $2,500.
Seegert's research and teaching focus on visual rhetoric with an emphasis on environmental communication and popular representations of the environment in new media. In her courses, she cultivates dialogue, community and connection. Students gain skills to apply these qualities to their ecological context, as well as their in-person and digital interactions. In the process they develop empathy for difference and cultivate a spirit of generosity in our polarized culture.
Lowey-Ball's research focus includes trade and economic developments in insular Southeast Asia, focusing on the period from the 1400s through the turn of the 19th century. Her recent work has concentrated on the city of Malacca, but the multinational nature of Southeast Asian trade means that in addition to Malays, she writes about many different Southeast Asian peoples as well as Indians, Chinese, Arabs, Portuguese, the Dutch and the British.
Congratulations to them both!