Digital NEH Workshop for Faculty
Strategies for Becoming Involved in NEH-Funded Projects | Friday, Oct. 23 at 10am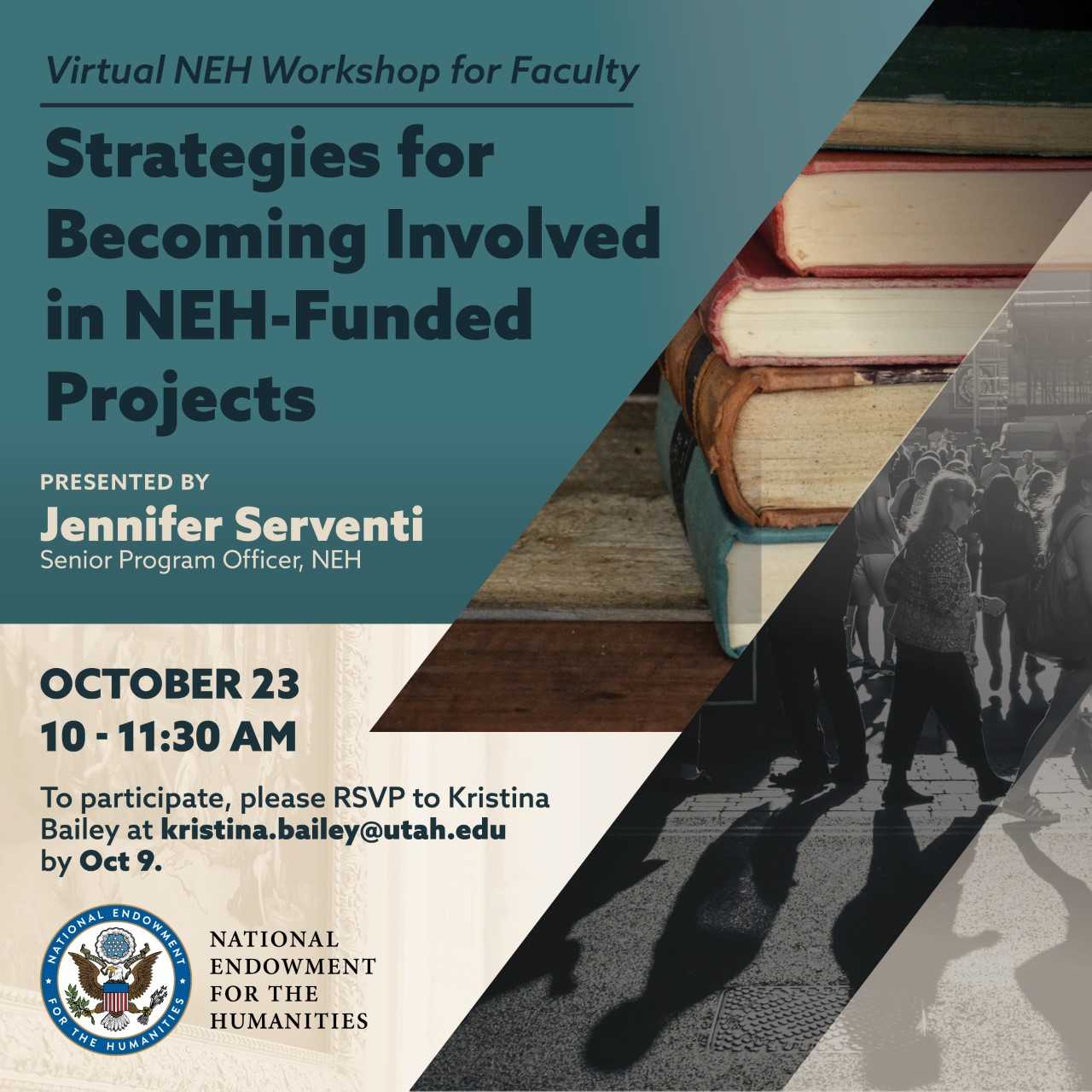 About the Workshop
This NEH workshop will give attendees the opportunity to learn from senior program officer, Jennifer Serventi, about the many funding opportunities offered by the endowment. She will cover the programs offered by the Divisions of Research Programs, Education Programs, Preservation and Access, Public Programs and the Offices of Digital Humanities and Challenge Grants. In her presentation, she will address two related questions: 1) What opportunities are available to faculty and staff, with a particular focus on support for digital projects? 2) What kinds of strategies can they employ to take advantage of them?
Serventi will also discuss ways faculty and staff can participate in NEH projects and special initiatives beyond applying for an award directly from NEH. Examples of these opportunities include serving as a peer review panelist, advising documentary films, evaluating archival collections as an advisory board member, participating in educational seminars and institutes, conducting research with support of a fellowship from an independent research institution or becoming involved in the work of state humanities councils.
---
What is the Office of Digital Humanities?
The Office of Digital Humanities offers grant programs that fund project teams experimenting with digital technologies to develop new methodologies for humanities research, teaching and learning, public engagement and scholarly communications. It funds those studying digital culture from a humanistic perspective and humanists seeking to create digital publications. Another major goal of the office is to increase capacity of the humanities in applying digital methods.
To best tackle the broad, interdisciplinary questions that arise when studying digital technology, the Office of Digital Humanities works closely with the scholarly community and other funding agencies in the United States and abroad to encourage collaboration across national and disciplinary boundaries.
Funded digital projects contribute to humanities scholarship that serve carefully-identified audiences, address issues of accessibility and usability and are designed to be open, replicable and sustainable. All projects funded in this division analyze their workflows and publish their results in white papers that are shared widely. This body of work contributes to the bibliography of digital humanities.
Who
All faculty at universities in the state of Utah.
What
A virtual 90-minute National Endowment for the Humanities Workshop on Funding in Digital Humanities.
When
Friday, Oct. 23, at 10am
Where
To participate, please RSVP to Kristina Bailey (kristina.bailey@utah.edu) by Oct 9. After the RSVP deadline, a link to the workshop will be provided.