A Global Partnership with Qatar Debate Center
---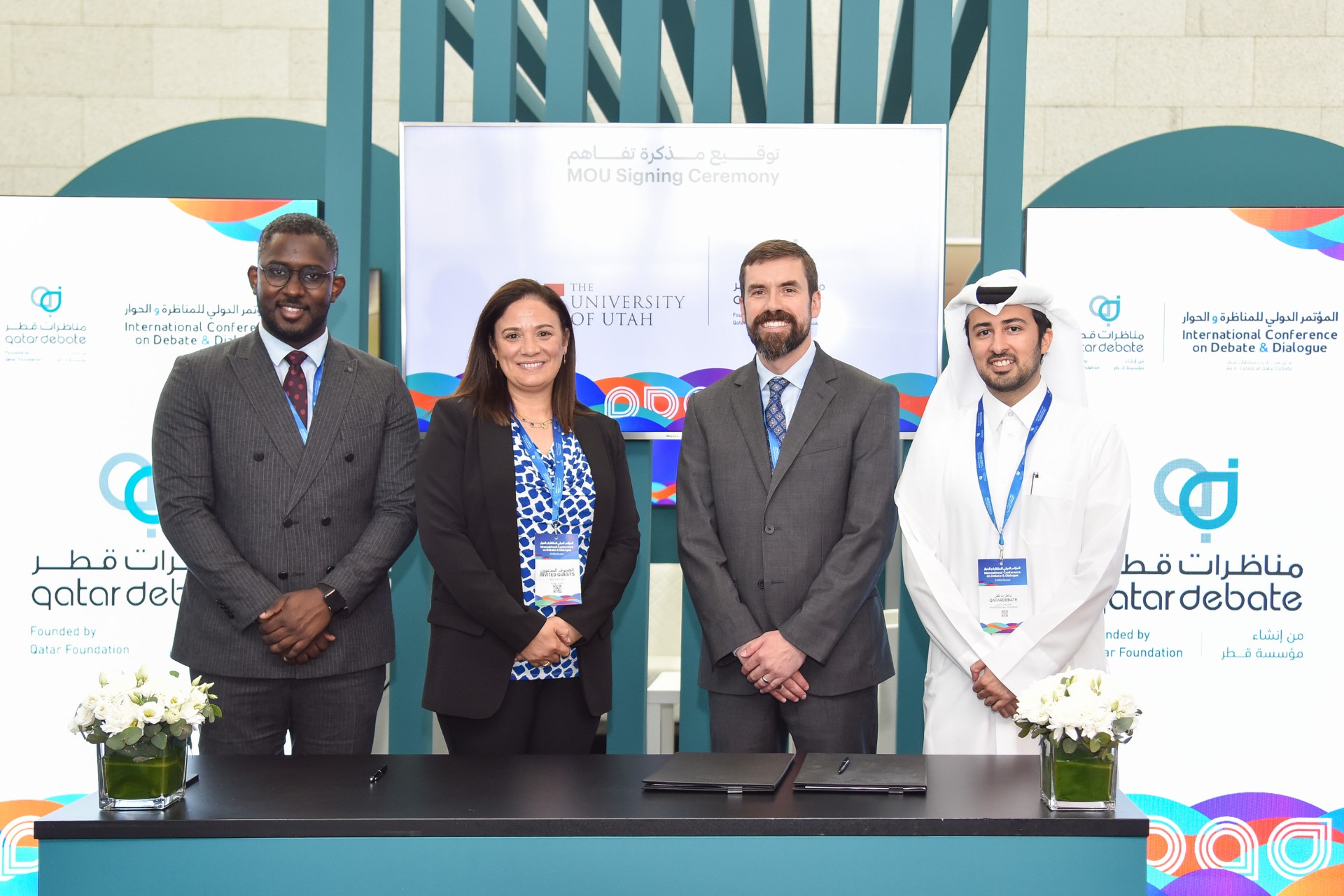 Far Left: Saad Elasad (Qatar Debate), Middle Left: Shereen Maher Salah (University of Utah), Middle Right: Chris Low (University of Utah), Far Right: Abdulrahman Al-Subaie (Qatar Debate)
The University of Utah's College of Humanities has joined the Qatar Debate Center's Arabic debate program to promote the culture of debate, open dialogue and enhance the Arabic language in the U.S. The U – in partnership with the Middle East Center and the John R. Park Debate Society – was one of the first U.S. universities to join the program.
"This is a wonderful opportunity for our students who highly value cultural exchange," said Hollis Robbins, dean of the College of Humanities. "Thanks to the leadership of our faculty, namely Christopher Low and Shereen Salah, the U continues to be a global voice in Middle East Studies."
The collaboration started with the U's Arabic debate team participating in the international debate championship in Doha in 2013. Since then, the Arabic debate teams have participated in debating championships hosted by Harvard University, University of Chicago and Stanford University. They have also collaborated in joint efforts and activities to create and develop a debate curriculum for non-native and heritage Arabic learners and the curriculum has been used in advanced Arabic skills courses. Recently, Shereen Salah, head of the Arabic program at the U, was selected by the Qatar Debate Center to be one of the founding members on the academic non-native engagement committee of the newly established U.S. Arabic Debate Union.
"With these academic collaborations with the Qatar Debate Center, I was thrilled to witness the signing of this partnership under the leadership and the support of Dean Robbins to largely benefit our students and academic community," said Salah. "I am looking forward to working more closely with the Qatar Debate team to cultivate the benefits of this partnership."
This Memorandum of Understanding, made possible by Salah and the leadership of Christopher Low, assistant professor of history at the U, adds to the college's long history of excellence in argumentation, debate and dialogue. Mike Middleton, associate dean for academic affairs for the College of the Humanities, notes that the partnership will help open exciting, new opportunities for faculty and students from across the college.
"The signing of this MOU is a tremendous milestone for the Middle East Center, paving the way for potential student and faculty exchanges with Qatar Debate and the wider Qatar Foundation," said Low. "We are also especially pleased to forge this agreement in partnership with Abdulrahman Al-Subaie, programs director for Qatar Debate, who also happens to be a proud alumnus of the University of Utah."
The MOU was signed at the First International Conference on Debate and Dialogue in Doha, Qatar in May, 2023.