Memorializing Victims of Lynching:
Soil Collection Ceremony
Soil will be sent to The National Memorial for Peace & Justice for display
---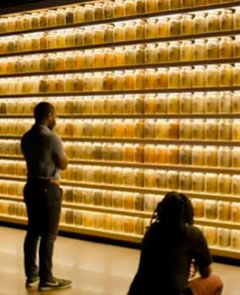 The National Memorial for Peace & Justice in Montgomery - Lynching Victim Memorial
June 6, 2022 – The Salt Lake County Community Remembrance Coalition of Sema Hadithi African American Heritage & Culture Foundation in collaboration and Partnership with the Equal Justice Initiative of Alabama will host a soil collection ceremony (raciallynchinginutah.org) at the sites of two racial lynchings that occurred in Salt Lake City in 1866 and 1883. The event will take place on Saturday, June 11 from 10 a.m. – 1 p.m.
As members of the Sema Hadithi Foundation, University of Utah professors Paul Reeve and James Tabery will gather with local African American leaders and Utah elected officials at the locations of the murders of Thomas Coleman (1866) and William ("Sam Joe") Harvey (1883) to hold a memorial ceremony and collect soil from the sites.
The soil will be put into jars and sent to The National Memorial for Peace & Justice in Montgomery, AL to be displayed alongside the soil of other lynching victims across the United States.
The public is invited to gather at 10 a.m. on Capitol Hill on the south steps, near where Coleman was murdered. Afterwards, there will be a march down the hill to the site where Harvey was murdered at the corner of 100 S. and State Street.
Along with working to organize the event, Reeve and Tabery have created a digital exhibit with the U's J. Willard Marriott Library to provide more information about the lives and murders of Coleman and Harvey. In collaboration with Anna Neatrour, digital initiatives librarian, the website also provides maps and newspaper reports of the murders from the era.
About Coleman and Harvey
Born in Mississippi in 1833, Coleman was murdered in Salt Lake City at the age of 35 outside the Arsenal building, near where the Utah State Capitol now sits. The circumstances surrounding his murder are murky, although he was accused of having a relationship with a white woman. Beaten and stabbed repeatedly with his own knife, Coleman's murderer(s) were never discovered or even seriously sought by the local criminal justice system.
In 1883, a white mob of up to 2,000 people gathered in front of the city jail in Salt Lake City and brutally hanged Harvey in a violent and public spectacle lynching, and then dragged his body down State Street. Harvey had been arrested and jailed after he was accused of shooting and killing the city's police chief, but was lynched before he could stand trial. After his lynching, despite known police complicity and thousands of mob participants and spectators, no one was held accountable for his murder.