Transforming the Virtual Classroom:
Faculty feature with Natalie Stillman-Webb
---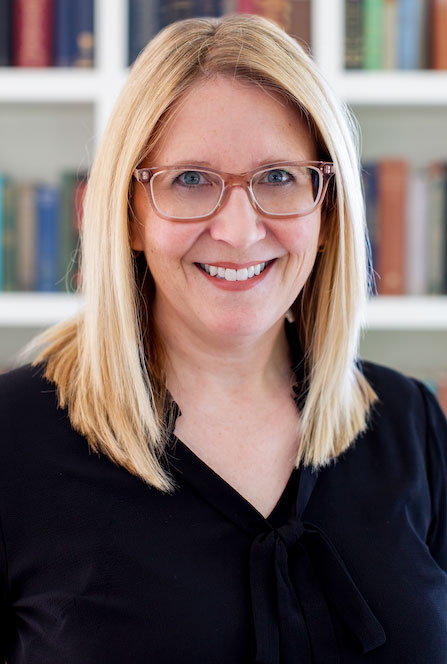 Natalie Stillman-Webb
More than a decade ago, Natalie Stillman-Webb, writing and rhetoric studies professor/lecturer at the University of Utah, was paying for her children's tennis lessons when the front desk attendant said he recognized her name from an online class he had taken the previous semester. After asking the young man's name, she remembered an excellent paper he had written and commented on it. However, he was confused. He knew he had seen her name before but did not realize that the robot he thought ran his online class was a living, breathing member of the university faculty.
Even though her class had clear instruction and good curriculum, this interaction showed that it was easy for students to miss out on personal interactions with the instructor in online courses. This bothered Stillman-Webb. She had worked hard on the online class and wanted to find a way to implement a classroom feel and instructor/student relationship even in a virtual medium. These classroom interactions are especially vital with writing courses. "Writing, in particular, is so much about the process," Stillman-Webb explains. "You go about this sort of recursive process, and it is iterative. Students are planning, thinking, drafting, mapping, revising, researching and editing. So, it is important to think about how we design courses effectively so that it feels like students are interacting and learning from one another throughout this process, and that they see me as someone who's also actively engaged in the class."
Stillman-Webb started looking at the problem through the lens of instructor ethos but realized that the method was too one-directional. She soon discovered a relatively new theoretical framework called the Community of Inquiry, which focuses on making online spaces into a community of learners. She began with a small study asking online students open-ended questions regarding this Community of Inquiry and presented it at a conference. While there, she met other writing studies scholars who shared her interest in this topic. Though this theory has been applied in other disciplines, little has been done in writing studies. For the last five years, Stillman-Webb and her team have used a $10,000 grant to conduct almost 700 surveys, 80 interviews and nine case studies to discover what ways professors can foster an online learning community.
Stillman-Webb and her colleagues discovered one of the most consequential ways students engage with each other is through peer reviewing. A critical part of the writing process, students are allowed to exchange work and get feedback, which enables powerful engagement within the classroom. Stillman-Webb explains the positive effects of an online classroom community cannot be ignored. "All the research over the last 20-plus years has shown that when students feel like they're part of a community online, they have higher satisfaction levels. They get better grades in the course. They're more involved in the course. They demonstrate greater levels of critical thinking. All these measurements tie student success to this sense of learning community."
Her interest in improving online courses began long before the COVID-19 pandemic forced university learning online. In fact, Stillman-Web became interested in digital environments while completing her doctorate in English at Purdue University. She said that her past research and experiences were helpful throughout the pandemic, as she continued to create a sense of community during a very isolating time. The increase in technology that came through the pandemic also benefited the online courses, and she is excited about the possibility of implementing other media into her classroom. She hopes that professors and universities can continue this momentum and improve hybrid and online courses even as life returns to normal.
Stillman-Webb wants her students to be prepared for their futures, which she does through community service and real-life experience. "I like the idea of writing that works in the real world," she explained. "I really enjoy talking, learning and preparing students to go out and write in the workplace and showing them how they can transform the world through writing." Working with the community is essential to her teaching philosophy. Stillman-Webb often teams up with local nonprofits to give her students real-life situations to apply what they learn in the classroom; for example, her Designing for Usability class is working with The Road Home to improve the user experience of its website. She believes that giving her students a space to volunteer their research and writing skills can teach important lessons.
Overall, Stillman-Webb loves being a teacher, with her research and service revolving around her teaching. She is constantly finding ways to improve her classes, whether in-person, hybrid or online. Her influence is not restricted to the classroom, as her outreach programs benefit the community and her students. Her work shows that you can truly transform the world through writing and effective, meaningful teaching.
---
MEDIA CONTACTS
Jana Cunningham, University of Utah College of Humanities
jana.cunningham@utah.edu | 801-213-0866
Published January 13, 2023