Student Success Hub Grand Opening
---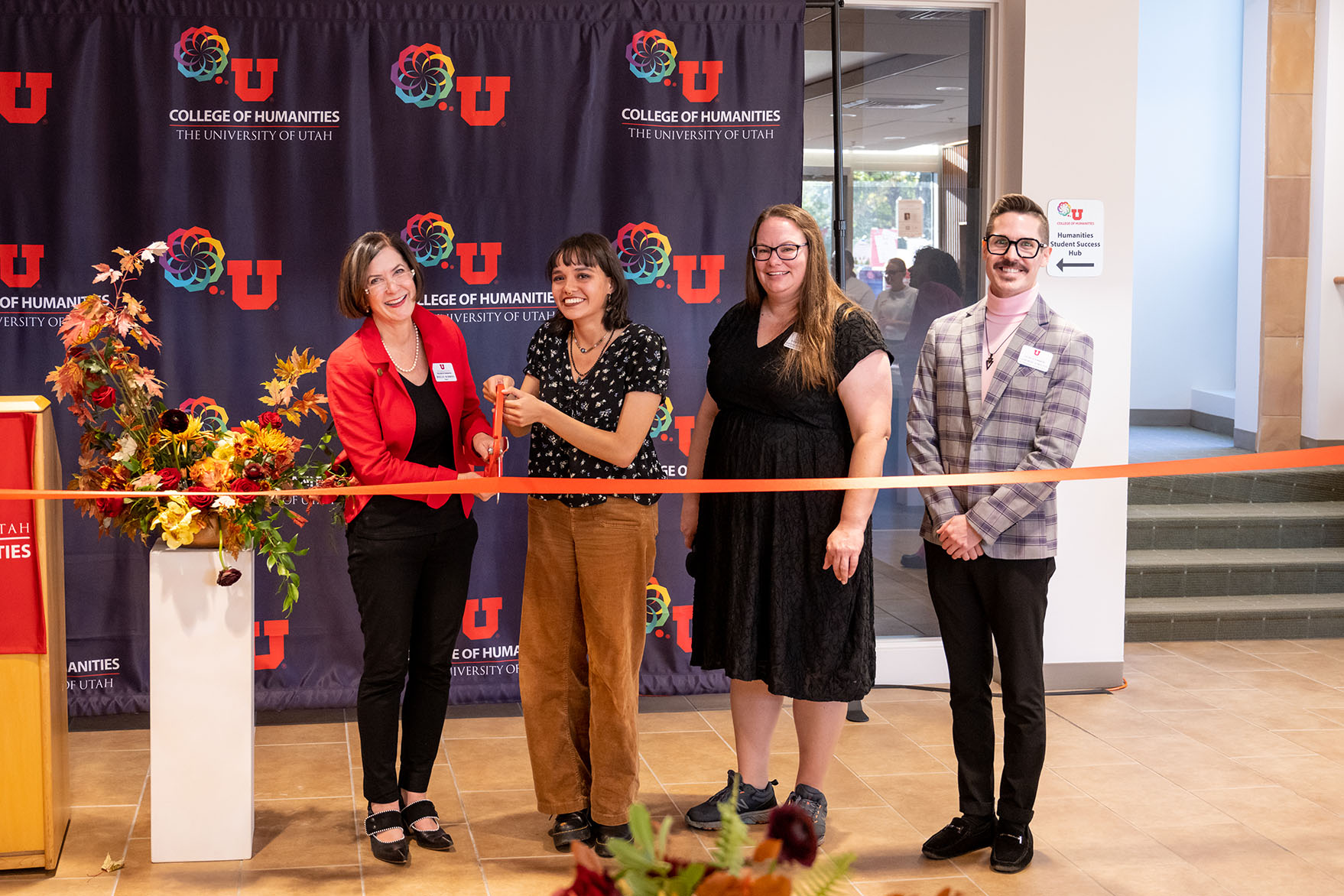 Dean Robbins cutting the ribbon at the Student Hub opening accompanied by student success staff.
On Oct. 18, 2023, the College of Humanities held a ribbon-cutting ceremony to celebrate the new Student Success Hub inside the Carolyn Tanner Irish Humanities building and recognize the generous donors whose support and partnership brought the vision to life. The event was vibrant, featuring live classical guitar music, student-guided tours led by humanities student ambassadors, and light refreshments. Donors had the chance to explore the new space, interact with students and career success coaches, and witness the impact of their support.
"The journey of the Hub's creation is a reflection of a shared vision – a vision held by our supporters as well as our staff and faculty," said Hollis Robbins, Dean of the College of Humanities. "We know that when students have access to important resources, like the resources at the Hub, we see them succeed on so many levels. Our supporters have allowed us to dream big, and as a result, the Hub is already contributing to student success in transformative ways. The results have been remarkable, with 1,832 declared humanities majors and 680 humanities minors enrolled this fall, we have experienced growth in all areas of the college."
The exciting new space provides students with a comprehensive resource center, featuring tabling events, internship and networking workshops, drop-in advising, and the support of career success coaches – all conveniently accessible in one location.
The Student Success Hub – or the Hub as it frequently referred – is committed to bolstering the success and confidence of humanities students, ensuring they feel confident in their skills and are well-prepared for thriving careers after graduation. The Hub offers weekly internship workshops and opportunities to network with local companies. Internships are instrumental in securing post-graduation employment. To date, the Hub and its coaches have assisted 52 percent of humanities students in completing one or more internships, with 43 percent of those internships leading directly to job placements, and 31 percent securing positions within the companies where they interned.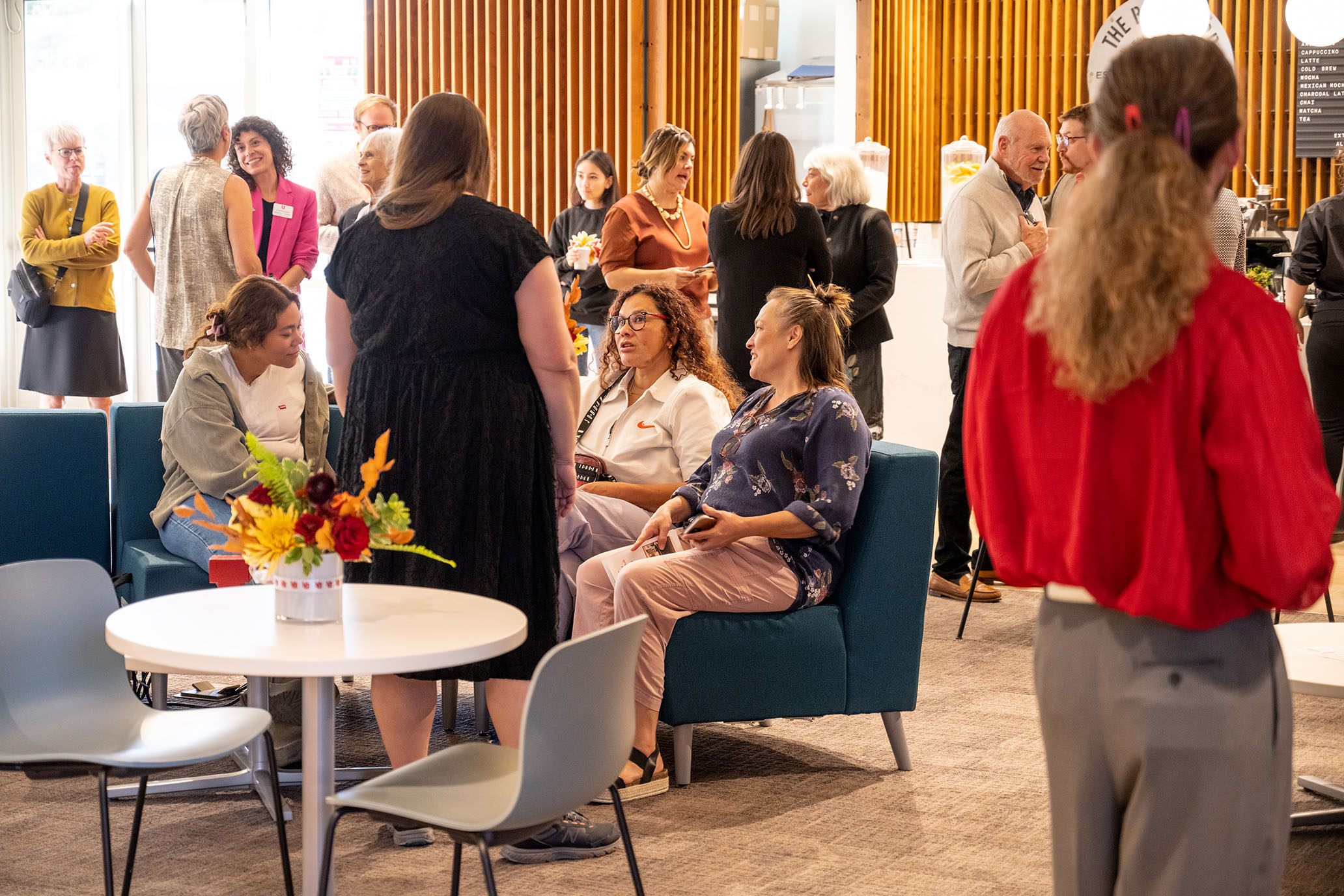 Karen Schaffer Marsh, director of student success and engagement; and Cameron Vakilian, director of advising, outreach, and experiential learning – who are both housed in the Hub – are looking forward to the upcoming spring semester. They are excited to support students in achieving their academic goals and preparing them for successful careers after graduation.
"Students and their success are a top priority in the College of Humanities and the Hub gives a physical location to celebrate and support our students as we watch them thrive at the U," said Marsh. "Students, advisors, success coaches, career coaches, and other campus partners, along with generous donors, coming together as one big student success team has been fun to witness. I love the energy that comes from having students around and from watching them excel and discover where they belong."
What to expect at the Hub?
As visitors step into the Hub, they will find comfortable studying areas and conference rooms for students, in addition to The Bean Yard Coffee Shop. The friendly front desk assistant is readily available to answer any questions. Just around the corner, in Room 103, is the heart of the Hub where students can meet with drop-in advisors and career success coaches.
Drop-in Advising Schedule
Monday – Thursday | Quick Answer Advising | 10 a.m.–noon
Monday – Friday | Career Coaching |10 a.m.–2 p.m.
Tabling Tuesdays - From noon-2:00 p.m., every Tuesday throughout the year, employers and campus partners set up shop in the lobby. Each week, one featured employer provides students with the opportunity to converse and discuss available job and internship positions. Additionally, a select group of campus partners will be on hand to assist students in exploring resources, including learning abroad opportunities, student success coaches, the learning center, and more.
This year, 93 Humanities students participated in learning abroad opportunities, in addition to eight students who secured prestigious Hinkley Global Internships. The influence continues to grow year by year, thanks to the remarkable achievements of the students, the generosity of donors, and the involvement of local organizations helping provide students with information for internship opportunities.
Student Success Events
Each semester, the Hub hosts a series of events designed to help students explore resources and develop success strategies. These events include panels, informative sessions, and career workshop series. The college is fortunate to collaborate with the nearby Tanner Humanities Center, utilizing their Jewel Box space for most of these occasions.
Student Involvement
The Hub provides a central meeting place for multiple student organizations, including Humanities Scholars, Humanities Student Council, and the recently established Humanities Ambassadors. These groups meet regularly in different areas around the Hub, including our newly revamped conference room.
---
MEDIA CONTACTS
Jana Cunningham, University of Utah College of Humanities
jana.cunningham@utah.edu | 801-213-0866
Published November 17, 2023