Taunya Dressler Wins "Beacons of Excellence" Award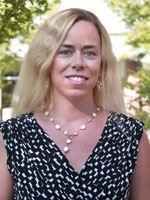 The College of Humanities' own Assistant Dean for Undergraduate Affairs, Taunya Dressler, was selected as a Beacons of Excellence Award recipient. Taunya is a dedicated advocate for students and a campus-wide collaborator. We are so grateful to have her working on behalf of our students.
The goal of the Beacons of Excellence Award is to recognize some of the practices on campus that make the educational experience a transformative one for students. The University of Utah fosters a transformational experience for all students. We value and recognize a respect for knowledge that empowers students to become actively engaged members of various communities. We accomplish this through recognizing people, programs and projects committed to excellence. This award highlights the achievements of a select group of the many people, programs, and projects that contribute to our excellence at the U.
Congratulations to Taunya for helping to make the College of Humanities an outstanding part of the University of Utah.