Christie Toth Continues Her Work With Transfer Students
Christie Toth, assistant professor in Writing and Rhetoric Studies, researches, works with and cares deeply about the success of transfer students. "I think if you care about underrepresented student populations – if you care about diverse students, if you're committed to the idea of access to higher education – you have to care about community colleges and transfer students," she emphasized. Toth has spearheaded a collaborative research effort to better understand the writing experiences of students transferring to the U and how to support their successful transitions. With grant funding from both the Dee Council and the Transformative Excellence in the Humanities initiative, she recruited five undergraduate and two graduate students to design and conduct surveys and interviews with transfer students from a variety of educational pathways. All of the student researchers had been transfer students themselves, which gave the team valuable insight into the diverse experiences of transfer students.
"There have been mounting concerns that students aren't explicitly prepared to transfer what they've learned to do as writers in the classroom into other spaces. How do we teach for transfer? It's a huge conversation in the field, but it has almost entirely left out students who are transferring between institutions," Toth explained. With this in mind, the research team performed 47 interviews with transfer students, three-quarters of whom attended Salt Lake Community College (SLCC) or another two-year college prior to enrolling at the U.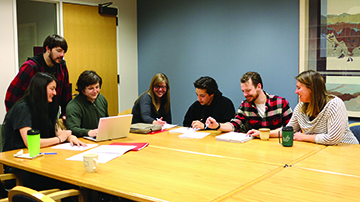 Based on the findings of that research, the team developed two courses: WRTG 3020: Write4U and WRTG 3030: Writing Across Locations. WRTG 3020 is a course for students in any major and was successfully piloted in Fall 2016 at the U. This Spring 2017, the same course will be taught at SLCC. Students learn key "threshold concepts" in writing studies and use those concepts to conduct a series of investigations into what writing looks like in their specific major. One critical component of the 3020 course is that students learn to draw on their prior writing knowledge and experiences and put them into conversation with what they are learning at the U. The course will introduce students to the university's infrastructure, such as the research library, and provide guided experience reading published academic journal articles and researching writing practices and conventions in their disciplines. The course will also include guidance for applying for U scholarships, which transfer students often miss out on. "Transfer students are structurally locked out of a number of opportunities at the U, so we need to do whatever we can do to make our programs accessible to transfer students and facilitate their success," Toth explained.
WRTG 3030 is designed specifically for students who want to transfer into the Writing & Rhetoric Studies major, and will be team-taught at SLCC in Summer 2017 by Professor Toth and a faculty member in the SLCC English Department.
Toth's previous research at the University of Michigan shows one of the big jumps for transfer students can be the nature and volume of what they're reading, as well as juggling multiple large writing projects at the same time. "We asked lots of questions trying to get at students' prior reading and writing experiences – in work, religious participation, activism, etc. How are they transferring that knowledge and those practices into the university and into their careers and lives outside of school? We're finding that students are transferring an enormous amount of knowledge," Toth explained. "We're seeing that many students who transfer between institutions seem to have gained valuable experiences with knowledge transfer that other students might not necessarily have."
Toth and her research teams are continuing to collect and analyze data from the pilot study of WRTG 3020 over the next year, including student surveys and longitudinal interviews, course observation fieldnotes, and lots of student writing over the course of the semester. This year's pilot study was funded by a University Teaching Grant and support from the Office of Undergraduate Studies, which enabled Toth to work with a group of transfer students as her UROP research assistants and MUSE interns. Nine of those 11 student research assistants and interns are first-generation college students.
Toth has presented at two conferences with the undergraduate researchers who have assisted her on this pilot study, and the team has plans to present at two more conferences over the next year. She also wrote a journal article with several of those students, and they will be co-authoring one of the chapters in her upcoming book project, which draws on these inter-institutional initiatives and the discipline of writing studies.
One of the messages Toth hopes to share about her research is that transfer students contribute to academic institutions like the U in significant ways. "We need to get away from talking about transfer students using deficit language, and instead think about the resources they bring, their experiences with transferring and successfully transitioning to a new environment," Toth said. "We need to think about what we can do, as teachers and as an institution, to enable them to adapt those resources successfully."
The Writing & Rhetoric Studies Department is working to raise scholarship funds for transfer students who need financial support to cover tuition at the U. To donate, please use this link (https://umarket.utah.edu/ugive/level3.php?catid=19) to select Writing & Rhetoric Studies, and write "Transfer Student Success Scholarships" in the memo section.