2016 Confutati Conference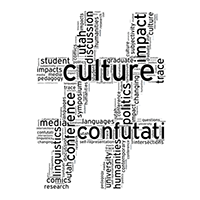 The 2016 Confutati Conference at the University of Utah is this weekend!
The theme, #culture, aims to trace the impact of our ever changing media and its effect on contemporary discourse and self-representation. Cultural legitimation, subjectivity, and identity are called into question in our understanding of #culture. This year's conference provides diverse perspectives on the impacts of changing media on intersections of genre, narrative, linguistics, and identity. The original research in the humanities presented here offers unique conversations in cultural criticism.
View the schedule of events here.
February 3, 2016