In Memoriam - Floyd O'Neil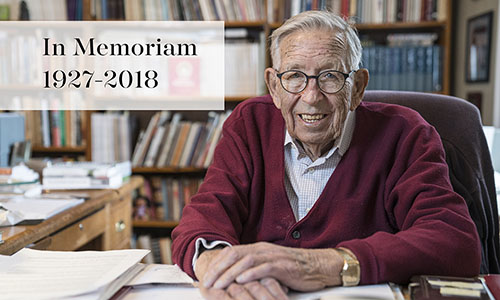 Floyd O'Neil, Director Emeritus of the U's American West Center, passed away on April 18, 2018 at the age of 90. O'Neil will be greatly missed, but his work and legacy will not be forgotten. In lieu of flowers, his family is asking that donations be sent to the Floyd A. O'Neil scholarship, supporting young graduate scholars working in the fields of the American West, American Indian Studies, and environmental issues. To donate to the scholarship fund, please visit: https://awc.utah.edu/
Until his passing, you could still find O'Neil in his book-filled office, where he had worked since 1966 and where he served as director for 11 years. As director emeritus, his institutional knowledge and ability to remember every name, date, book and fact was priceless to the 54-year-old center.
"Floyd's impact on the center is impossible to overstate," says Greg Smoak, the current director of the center and former student of O'Neil's. "As a staff member and then assistant director and director, Floyd was largely responsible for building and maintaining the center's ongoing relationship with American Indian peoples. I also know of no better mentor. He created an environment at the American West Center based on teamwork and respect that allowed young scholars to do important work."
A career leading to the preservation of American Indian history started when O'Neil was just a child growing up on a reservation near Fort Duchesne, Utah. A third of his class were American Indians, including his seat mate, whom he grew to be great friends with. The relationships he established would eventually inspire a career lasting more than half a century.
Two years after its founding, the American West Center received a grant from tobacco heiress Doris Duke in 1966 to record the oral histories of native peoples. Because of his unique ability to connect with native peoples, he was asked to help gather interviews from tribes such as Navajo, Ute, Tohono O'odham, Shoshone, Paiute, Hupa, many of the Pueblos and several others. "The tribes trusted Floyd because he made a strong and sincere effort to connect and engage with everyone," says Smoak.
Duke funded oral history projects with seven universities, but the U's ended up being the largest collection with 1,458 oral histories, some of them in the native tongue, that resulted in 16 volumes of tribal histories. The Marriott Library houses the entire collection. Importantly, O'Neil emphasized, the copyrights belong to the tribes. "Universities forget people, but tribal people remember," he said.
Read a full profile on the life and work of O'Neil.