Anne Jamison Featured in Several Articles About Fan Fiction
Anne Jamison, Associate Professor of English at the University of Utah, has been quoted in several articles this week from around the country. The topic of these articles has been centered on Fan Fiction, a subject Anne has been researching and teaching at the U.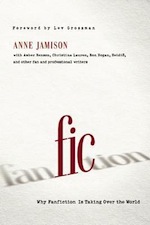 Fan fiction or fanfiction (also abbreviated to fan fic, fanfic, or fic) is fiction about characters or settings from an original work of fiction, created by fans of that work rather than by its creator. It has become increasingly popular with the spread of the Internet and according to Professor Jamison is "the first native digital fiction" as she was recently quoted in the Washington Post article The most popular authors you've never heard of are finally getting their own book. Additionally, three days prior she was quoted inNew York Timesarticle Cassandra Clare Created a Fantasy Realm and Aims to Maintain Her Rule.
On top of all that, a documentary team from French television, France 4, traveled to the University of Utah last month to interview and film Professor Jamison about her work on fanfiction. Her book, Fic, is an exploration of the history and culture of fan writing and what it means for the way we think about reading, writing, and authorship. Read more about their visit here, and learn more about France 4 TV here. (If this documentary becomes available for streaming at a later date, it will be posted on the Humanities website.)
Congratulations to Professor Jamison on her recent achievements. We hope she continues to educate us all on this growing topic.