Philosophical Man of Action:
Faculty feature with James Tabery
---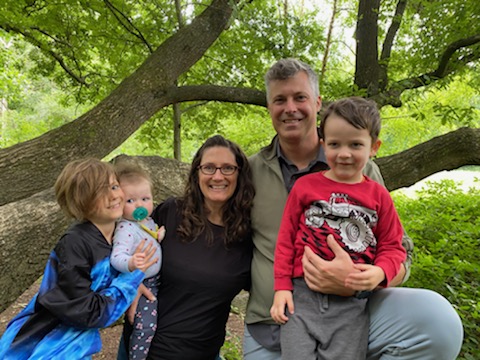 James Tabery and family
If you imagine a philosopher, you might picture one of the great ancient thinkers, such as Plutarch or Aristotle, or perhaps a professor that reads quietly, ponders and debates. The stereotypical philosopher tends to be someone who spends a lot of time thinking, not exactly a man of action. Though Jim Tabery, professor of philosophy, is a gifted philosopher, he could not be farther from this stereotype. Tabery's devotion to being out in the community and actively participating in social justice issues is evident in his many projects and outreach programs. His passion for both science and philosophy led him to the mountains of Utah, and he has been determined to use his research to benefit his community and society as a whole.
Tabery received his bachelor's degree from Fairfield University in Connecticut. He began as a biology major but slowly found himself gravitating to philosophy. He was less interested in being in a lab, collecting data and was more interested in the bigger questions that science raised and the ethical issues that science created. He ended up graduating with a double major in both biology and philosophy. He then received his doctorate from the University of Pittsburgh in history and philosophy of science in 2007. When he heard about the University of Utah's Philosophy Department, he knew it was a program he wanted to be a part of. He accepted a job at the U shortly after graduating and has been here ever since.
So, what is philosophy of science anyway? Tabery explains that "philosophy is a very old discipline. It goes back thousands of years, so there is very little that cannot be subjected to some element of philosophical scrutiny. I tend to gravitate to questions about science and medicine. How do we do those things better? How do we do them in a more ethical fashion? How can we construct a more just society in light of this information?"
Much of Tabery's recent work focuses on disability and disability studies. His current project, highlighted in a recent article in the Salt Lake Tribune, investigates the history of involuntary sterilization in Utah. Until the mid-twentieth century, many states had laws that gave states the right to sterilize individuals deemed "unfit." Though most states disbanded these laws in the 1930s and '40s, Utah continued sterilization in state institutions until the 1970s. Tabery is leading a team collaborating with a center in American Fork where many of these sterilizations took place. Working with de-identified data provided by the center, Tabery and his team analyze the demographics of these sterilized individuals to assess who was sterilized and how that changed over time.
Tabery believes it is important to start conversations about how science (sterilization, for example) was weaponized throughout history to attack vulnerable populations by forcibly taking away their right to have children. "This is the history of how groups in power used their power at the expense of marginalized groups," he said. "We need to draw attention to that as a way of reckoning with the past and also draw attention to disparities that continue to exist all around us." Tabery further showed his commitment to this sentiment this summer when he and history professor Paul Reeve conducted soil collection ceremonies at two locations in Salt Lake City where the violent lynchings of Black men occurred in the 19th century. This soil was bottled up and sent to Montgomery, AL, where it will be displayed with soil from other lynching sites around the nation.
Along with fellow professor Madison Kilbride, Tabery is a co-founder of the Graduate and Undergraduate Researchers of UCEER (GURU) program. Tabery believes that many ableist barriers keep disabled students from getting research experience while earning their degrees. According to its website, GURU is an "NIH-funded, first-of-its-kind program designed to give disabled students at the University of Utah the opportunity to join a research team focused on the ethical, legal and social issues raised by genomic science and genomic medicine." The GURU Program allows students to gain experience with research that they would not otherwise. The program is in its fifth year, and Tabery is proud to have seen many past GURU students continuing to medical school, law school and graduate programs.
Tabery is grateful to be a part of such a world-renowned program at the U. He praises the Philosophy Department's gender diversity and the department's ability to nurture young professors. He shares the department's goal of creating practical applications of philosophical questions, an opinion that is substantiated by Tabery's commitment to using his research in real-life experiences. "One of the things that we have prided ourselves on as a department is being outward-looking," he said. "What ways can the philosophy we are doing form relationships with other departments on campus or the community? How can we create ideas that can be employed in hospitals or the justice system? That is not a given everywhere…things that we are thinking about in the Philosophy Department have real practical lessons. At the end of the day, they are deep philosophical questions, and we think we are at our best when we take that message to other places."
By Corinne Clarkson
---
MEDIA CONTACTS
Jana Cunningham, University of Utah College of Humanities
jana.cunningham@utah.edu | 801-213-0866
Published October 19, 2022